Lufthansa Lifts 2015 Earnings Forecast on Summer Gains, Fuel
by
Fuel costs seen dropping by 1.1 billion euros versus 2014

Freight division posts second consecutive quarterly loss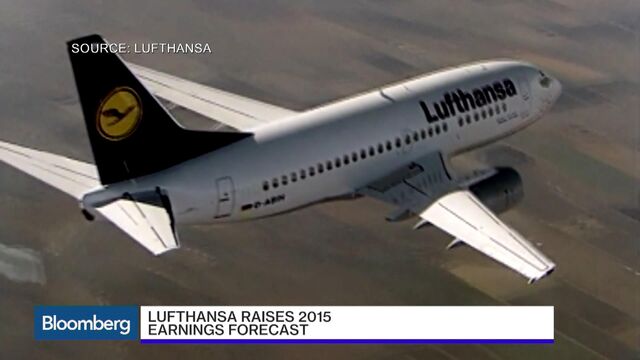 Deutsche Lufthansa AG, Europe's second-largest airline, raised its earnings forecast for 2015 after a jump in mid-year demand and a drop in oil prices contributed to a 51 percent surge in third-quarter operating profit.
Earnings before interest and taxes, adjusted for asset valuations, disposals and pension provisions, will be in a range of 1.75 billion euros ($1.9 billion) and 1.95 billion euros, Cologne, Germany-based Lufthansa said Thursday in a statement. That compares with an earlier forecast that operating profit would exceed 1.5 billion euros, and with last year's figure of 1.17 billion euros. Shares rose to their highest price since February.
Profit growth, also helped by an expanding German economy, may prove to be a blip for Lufthansa, which warned that demand and pricing have been waning in the fourth quarter. Strong earnings may also weaken the airline's bargaining power in a prolonged conflict with labor unions. Pilots have been protesting Chief Executive Officer Carsten Spohr's plans to expand the Eurowings division into Europe's third-largest low-cost airline to weather competition from discount carriers such as Ryanair Holdings Plc.
"We must continue to work hard on the competitiveness of our cost structures," Spohr said in the statement. "We cannot expect to fly for too long with a tailwind of low oil prices. Our aim is not to have to further adjust our network to our costs, but to give ourselves a cost structure that will enable us to open up new routes and tap new markets."
Shares Rise
Lufthansa stock rose as much as 1.9 percent to 14.55 euros and were up 0.9 percent at 9:09 a.m. in Frankfurt. The shares have gained 4 percent this year, valuing the company at 6.68 billion euros.
Crude oil fell below $38 a barrel in August, the lowest level in more than five years. Lufthansa's fuel expenses this year will total 5.7 billion euros, the company said, cutting its estimate by 5 percent. That would be a 1.1 billion-euro drop from last year's spending on jet kerosene. Unit costs, which dropped 3.3 percent in the quarter, will decline for the full year, though that will "probably only be achievable if there are no further strikes" for the rest of 2015, the carrier said.
Lufthansa's reorganization efforts have been hampered by years of labor conflict dating from before Spohr became CEO in 2014. Six days of pilot walkouts generated 100 million euros in extra costs in the first half of 2015, and about 50 million euros were added to spending in September, when cockpit crews walked out for two days before a Frankfurt court halted the action, calling it an illegal protest against Lufthansa's Eurowings strategy.
Third-quarter operating profit totaled 1.23 billion euros, beating the 1.1 billion-euro average analyst estimate compiled by Bloomberg. Revenue rose 5.7 percent to 8.94 billion euros. Fuel expenses declined 20 percent from a year earlier. The freight division posted an operating loss of 15 million euros, the first time the unit has suffered two consecutive quarterly losses since 2009.
Fares Dropping
Seat pricing in the fourth quarter will worsen as demand has "deteriorated noticeably" in recent weeks, Lufthansa said. The company said in July that fare moves this year will be "clearly negative."
Lufthansa outlined plans last month to split its airline business into one division focusing on its mainline, network brands and another for low-cost operations. The reorganization will save 500 million euros by 2019 and will include the loss of 150 managerial positions, the carrier has said.
Before it's here, it's on the Bloomberg Terminal.
LEARN MORE