LinkedIn Projects Annual Sales Will Top Analysts' Estimates
By
Quarterly profit of 78 cents a share beats 45 cents projection

Company says it reached 400 million user mark last week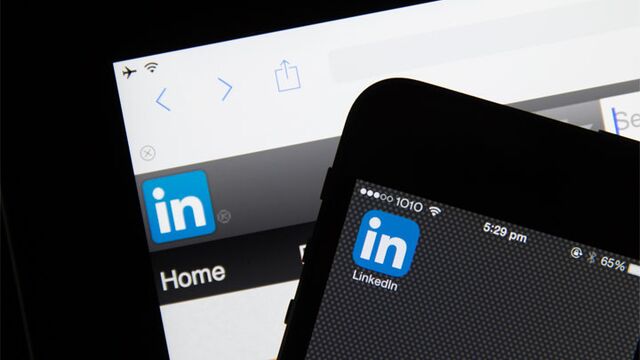 LinkedIn Corp. forecast year-end revenue that topped analysts' projections, a sign that a revamped sales force and expansion into education and business services are helping to boost revenue. The shares rose the most in a year.
Sales for the year will be about $2.98 billion, topping the $2.95 billion average analysts' estimate, according to data compiled by Bloomberg. LinkedIn's third-quarter profit, excluding certain items, was 78 cents a share, the company reported Thursday in a statement, compared with analysts' average estimate of 45 cents.
The company's earnings were fueled by stronger demand for its recruiting services, while marketing and sales products performed well, Jeff Weiner, LinkedIn's chief executive officer, said in the statement. LinkedIn has been taking steps to overcome a slowdown in its core professional-networking business, reorganizing its sales force and expanding into new areas, such as tools to manage sales relationships and take online courses. The company acquired the education website Lynda.com for $1.5 billion earlier this year.
The quarter was "all good across all metrics," said Rob Sanderson, an analyst at MKM Partners. "This should quiet the primary bear concern after two disappointing quarters."
Shares Rise
LinkedIn's shares gained 11 percent to $240.87 at the close Friday in New York, the biggest single-day jump since Oct. 31, 2014, and the highest price in six months.
Third-quarter sales rose 37 percent to $779.6 million, compared with the $756.4 million analyst estimate. The company's loss widened to $41 million, or 31 cents a share, from $4.26 million, or 3 cents, a year earlier, the Mountain View, California-based company said. Analysts had expected a loss of $93.3 million.
The online jobs site reported 396 million users, up from 380 million in the second quarter. The company said it passed 400 million users last week.
The company has been tweaking its site so it's easier to use, redesigning its mobile application and messaging service. It has also been expanding internationally, now with 13 million members in China.
"As we think about 2016, we expect to accelerate our focus on how we integrate all of these assets to help enterprises hire, market and sell by using LinkedIn to connect to opportunity," Weiner said in prepared remarks for a call with investors.