Li Floats New China Five-Year Growth Minimum of Around 6.5%
Bloomberg News
Premier says quantitative easing shouldn't be adopted

Underscores pledge to avoid devaluing the yuan to spur exports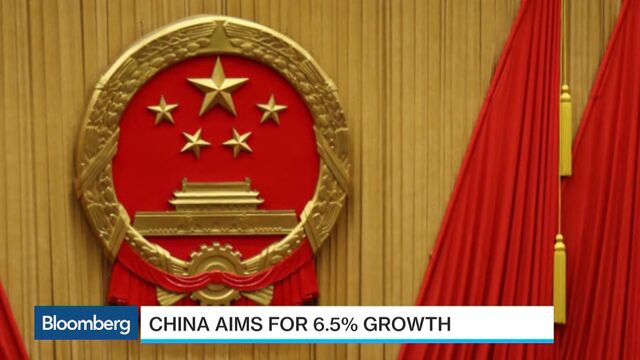 Premier Li Keqiang highlighted a minimum growth estimate for China in the coming five years that could indicate the leadership's readiness to accept the weakest period of expansion since the economy was opened up more than three decades ago.
The nation needs annual growth of at least 6.53 percent in the next five years to meet the government's goal of establishing a "moderately prosperous society," Li said in an Oct. 23 speech to Communist Party members, according to people familiar with the matter who asked not to be identified as the remarks weren't public.
Communist Party leaders Thursday conclude a four-day gathering to discuss their 2016-20 five-year plan for the nation, the first since President Xi Jinping and Premier Li took office. Policy makers are managing the priorities of both reforming the economy and keeping short-term growth fast enough so that structural changes don't cause a hard landing.
"This lower number is more realistic and feasible if substantive reforms can be implemented," said Xiao Geng, a professor of finance and public policy at the University of Hong Kong. "It is good as Li is focusing on delivering the party's key promise on raising the living standards of Chinese people. After all, growth is the best available verifiable indicator for progress."
Private economists have predicted a reduction in the five-year growth target to 6.5 percent, down from 7 percent in the current plan -- a reflection of the Communist leadership's continuing attempts to move away from debt-fueled expansion.
"It seems that Premier Li is sending a signal through his speech that China's government is likely to lower their growth target to 6.5 percent in the 13th five-year plan," said Le Xia, a Hong Kong-based economist at Banco Bilbao Vizcaya Argentaria SA. "The 6.5 percent target is still a little challenging. A target of 5-6 percent seems a more feasible one."
China's central bank shouldn't adopt quantitative easing to flood the economy with too much money, Li said, according to the people. The comment underscores how the People's Bank of China has opposed U.S. and Japan-style direct purchases of assets in its campaign to ease liquidity and shore up the weakest expansion in a quarter century.
Disinflation, Overcapacity
China also faces challenges including disinflation and overcapacity, while companies are facing difficulties in operations, Li said. He said policy makers need to restructure the economy to avoid the middle-income trap and not purely emphasize speed.
The State Council didn't immediately respond to a faxed request for comment on Li's remarks.
Li, speaking to the Communist Party Central Committee's Party School, underscored China's avowal to avoid cheapening the yuan as a tool to stoke exports. Recent depreciation in the currency has been a "market action," he said, according to the account. The program to bolster international use of the yuan will continue to advance, he said, while capital flows across borders have brought challenges to monitoring.
Capital outflows climbed to $194.3 billion in September, exceeding the previous high of $141.7 billion in August, according to a Bloomberg estimate that takes into account decisions by exporters and direct investment recipients to hold funds in dollars.
The premier said fiscal and financial risks are increasing, and that the stock-market rout suffered earlier this year was caused by leverage, such as a surge in margin financing. Growth cannot return to the days in excess of 10 percent, though it can stay in a reasonable range, Li said.
Officials have worked hard to achieve the current target of 7 percent, the premier said. The economy expanded 6.9 percent in the three months through September from a year earlier. While that beat economists' estimates for 6.8 percent, the expansion benefited from an out-sized contribution from financial services after a surge in share trading from the year-earlier period.
'No Other Option'
"Having an ambitious growth target will leave the Chinese authorities with no other option apart from undertaking widespread structural reforms," said James Laurenceson, deputy director of the Australia-China Relations Institute at the University of Technology in Sydney. "Macroeconomic policy stimulus won't be sufficient to get them there."
Some private estimates of the economy indicate that the expansion may be weaker than officially reported, as gains among new services and consumer-led businesses aren't yet sufficient to offset a contraction among old-line industries.
China's goal of a "moderately prosperous society" refers to policy makers' plan to double per-capita income by 2020 from 2010 levels. Li said the country will lift most of the people currently among the 70 million living in poverty out of that condition by 2020.