Japan Government Approves Mitsubishi Regional Jet's First Flight
by
Company will start taxiing tests before first flight

Regional jet is set to launch during the week of Nov. 9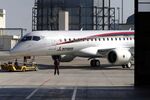 Japan's government gave approval for Mitsubishi Aircraft Corp.'s new passenger jet to fly, opening the way for its first flight in the week of Nov. 9.
Mitsubishi Aircraft will perform high-speed taxiing tests and evaluations before the first flight, the company and its parent, Mitsubishi Heavy Industries Ltd., said in a statement Thursday.
The planemaker, based at Nagoya airport in central Japan, said last month it would put off the first flight to November, its fifth delay, to make improvements to a flight pedal in the cockpit. Mitsubishi Aircraft has tapped bullet-train specialists to ensure the completion of the jet as it competes with Brazil's Embraer SA and Canada's Bombardier Inc. in the market for planes with fewer than 100 seats.
The company has won 407 orders, including options and purchase rights, for its two types of planes, which seat 78 to 92 passengers. ANA Holdings Inc., Japan's largest airline, is the first buyer, while the two biggest customers are SkyWest Inc. and Trans States Airlines Inc. in North America.
Before it's here, it's on the Bloomberg Terminal.
LEARN MORE