Israel's Flug Says Rate Cuts Only in 'Unusual Circumstances'
by and
Bank's basic scenario doesn't include unconventional tools

Shekel is `notably overvalued,' Bank of Israel Governor Says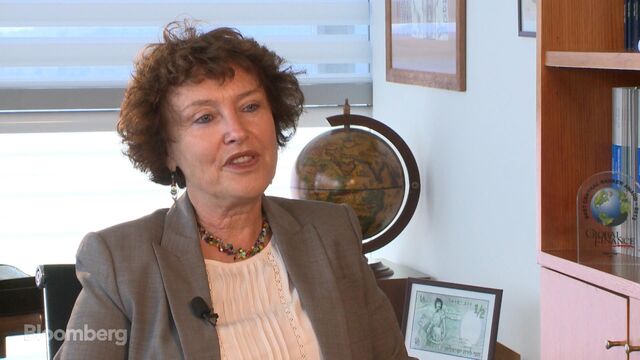 The Bank of Israel will pare its benchmark interest rate only in the event that inflation or economic growth veer sharply off course, though low borrowing costs will be needed for "a while," Governor Karnit Flug said.
Because the interest rate is already "very accommodative," further cuts would be considered unconventional monetary policy, Flug said in an interview in her Jerusalem office on Wednesday.

"Further changes in the rate would imply moving toward the unconventional kind of monetary policy, and that would be based on an assessment that we are in unusual circumstances," Flug said. "We leave the door open for that, but if our basic scenario materializes, I think the current monetary policy stance is appropriate."
The Bank of Israel left its interest rate at a record low 0.1 percent for an eighth month on Monday. The central bank has reduced its benchmark rate 13 times since 2011, most recently in late February, to weaken the shekel and shore up exports, which account for about a third of Israel's economy.
The shekel strengthened 0.5 percent against the dollar in the quarter-hour following the publication of Flug's comments. It was trading at 3.8836 at 1:42 p.m. in Tel Aviv.
"Flug's comments signaled to investors that an interest-rate cut is less relevant at the moment, which helped strengthen the currency," said Sagie Poznerson, head of trading at Leader & Co. Investment House in Tel Aviv.
'Extreme Circumstances'
The governor predicted that low rates will be needed for "a while." Asked if the bank might buy bonds, Flug said she "doesn't rule out anything." Like other unconventional tools, it would only be used in "extreme circumstances," she said. 
Flug declined to say what sort of scenarios would spur a rate change, but noted that a protracted wave of violence could impact private consumption and tourism. Because private consumption has been driving growth this year, any weakness in spending, without a turnaround in the global economy, would be a negative development, she said.
"If the violence wave becomes more intense or is prolonged, that can have a pronounced effect on consumption and tourism, so there is a risk," she said.
Palestinians attacking with knives, guns and rocks have killed 10 Israelis this month. More than 60 Palestinians, most of them attackers, have also died. The unpredictable nature of the violence has generated fear even in a country accustomed to militant groups' bombings and rocket fire.
Main Factors
"The main factors we look at are inflation and activity," Flug said. "We are now on a certain path or expected path on both; a very sharp deviation from the path could lead us to change our monetary policy stance."
Consumer prices are down 0.5 percent from a year ago, and have dropped outside the lower range of the central bank's target band of 1-3 percent more than 12 months ago. Flug attributes that in part to the influence of external factors such as commodity prices and onetime domestic developments including tax cuts.
Economic growth was already showing signs of slowing before the violence erupted in October, with the Finance Ministry cutting its forecast to 2.6 percent this year and 2.9 percent in 2016, down from previous projections of 3.1 percent and 3.3 percent.
Slowing exports have weighed on growth this year, due to tepid global demand and a strong local currency. Flug said the shekel -- the second-best performer among 31 major currencies that Bloomberg follows -- is "notably overvalued."
Sloughing off the violence, the shekel appreciated 1.5 percent this month against a basket of currencies, including the dollar and the euro, and is headed for its best monthly gain since July. Some investors speculate that the violence will be temporary and won't have a significant impact on economic growth.
Before it's here, it's on the Bloomberg Terminal.
LEARN MORE