How Deutsche Bank Lost Money as VW's Scandal Shook Auto Stocks
by and
Third-quarter equity trading revenue fell 19% to $643 million

Risk aversion in Asia also pushed down results at division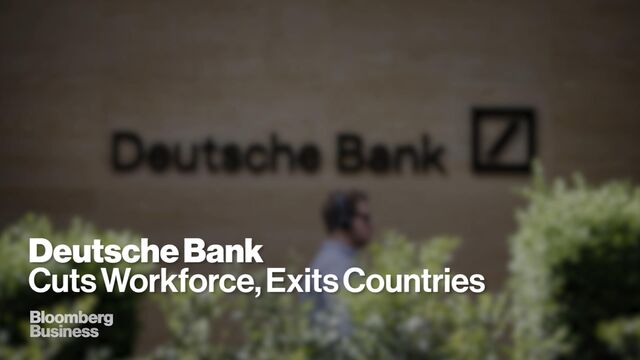 Deutsche Bank AG, among the world's biggest traders of stocks, found itself on the losing side of the turmoil sparked by Volkswagen AG's diesel-cheating scandal.
"We had a series of positions for our clients which were on the wrong side and we did indeed lose money in the automobile sector," Marcus Schenck, Deutsche Bank's chief financial officer, told reporters in Frankfurt on Thursday. "They're not gigantic amounts and not necessarily linked to Volkswagen, but in our case it was rather other names."
Automotive stocks have been on a roller-coaster since VW admitted last month it had rigged diesel-emissions tests. The losses in equity derivatives helped push Deutsche Bank's income from stock trading 19 percent lower in the third quarter to 588 million euros ($643 million), the company said. The slump coincides with a change of management in Deutsche Bank's trading business as the company named Garth Ritchie, who oversees equities, head of a new unit that combines stock and bond trading.
Short options in particular led to the poor result in equity derivatives as liquidity dried up, Schenck explained.
"In addition, we have consciously held back from some activities in Asia due to risk," Schenck said. "When you compare us with some other banks, they have good third-quarter results from Asia, and that's what's missing."
Before it's here, it's on the Bloomberg Terminal.
LEARN MORE