Brew Your Lunch
Keurig wants to add soup to your office coffeemaker's menu. A few add-ins will really punch up the pods.
Vanita Salisbury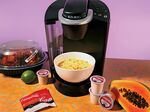 Perhaps you work in one of those paradises where the corporate chef apprenticed under Thomas Keller; where the ahi tuna and panna cottas shame the finest restaurants. For the rest of us, we have Sad Office Soup. Freeze-dried (like what the astronauts eat!) and with more salt than a Dead Sea cabana, it's the shelf-ready meal of last resort.
Keurig's latest product tries to improve on that experience. The company has teamed with the soupmakers at Campbell's to introduce soup K-cups for its ubiquitous pod-brewing system. The soups come in two varieties: regular chicken noodle and a "spicy southwestern" version. How are they? Oh, they're lousy—but that doesn't mean you can't tweak them into something better. To help hack this latest cubicle-cuisine indignity, we asked five top chefs to concoct upgrades.
Miguel Trinidad's K-cup Tinola
"Tinola is a Filipino-style chicken soup," says Trinidad, chef at New York's Maharlika and Jeepney. "The ginger gives it a little heat, the sriracha brightens up the dish, and the shredded chicken will keep you going throughout the day. It's comfort food."
1 Classic chicken soup K-cup and noodle packet
Shredded cooked chicken
1 tbsp. sliced scallions
1 tsp. ginger powder
Juice of half a lime
Sriracha, to taste
Shredded papaya (optional)
In your cup, microwave the chicken for 30 seconds; add the scallions and ginger. Follow the instructions on the box to make the soup. Finish with the lime juice and hot sauce. If you want to be truly traditional, top with the papaya.
George Mendes's Lemon-Spice Chicken Noodle Soup
"The dried spices can go in so many directions, and zest really opens everything up," says Mendes, chef at New York's Aldea and Lupulo.
1 Classic chicken soup K-cup and noodle packet
1 tsp. total of dried spices (combination of smoked paprika, coriander, fennel, thyme, rosemary)
Drizzle of fresh, fruity olive oil, to taste
Lemon juice and zest, to taste
Lime or lemon zest, to taste
Ford Fry's Smoky Chicken Noodle Soup
Fry is the chef at nine Atlanta restaurants, and will open State of Grace in Houston this fall. "As a kid, when grilling or barbecuing chicken, we would always take advantage of the coals and smoke extra," he says. 
1 Classic chicken soup K-cup and noodle packet
1/3 cup shredded chicken
1 tbsp. finely chopped chipotle chiles in adobo
Juice of ½ a lime
1 heaping tbsp. roughly chopped cilantro
Jenn Louis's Burrito Noodle Soup
"I tend to crave burritos, so dressing up a healthier soup this way gives those flavors without the guilt," says Louis, chef at Portland's Lincoln and Sunshine Tavern.
1 Classic chicken soup K-cup and noodle packet
1/2 avocado sliced
1/4 cup of halved cherry tomatoes
Top it with tortilla strips (or even homemade crushed tortilla chips!) and a scoop of pico de gallo and sour cream
Michael Schulson's Faux Pho 
Schulson, chef at Philadelphia's Sampan, suggests using regular basil leaves if you can't find Thai basil. "The difference is that Thai basil has a little bit of an anise characteristic to it."
1 Classic chicken soup K-cup and noodle packet 
1/2 tsp. of sriracha
2 Thai basil leaves, ripped
Before it's here, it's on the Bloomberg Terminal.
LEARN MORE