Ex-Porsche CFO Admitted Manipulation, Prosecutor Tells Court
by
Haerter conceded he was worried about VW shares: Prosecutor

Stuttgart trial over 2008 failed bid for Volkswagen continues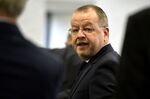 German prosecutors said that former Porsche SE Chief Financial Officer Holger Haerter effectively admitted last week that he was guilty of market manipulation ahead of a failed attempt to take over Volkswagen AG.
In his opening statement on the first day of the trial, Haerter conceded that he was worried in October 2008 about the cost of Volkswagen shares and the financial risks for Porsche, prosecutor Heiko Wagenpfeil told a Stuttgart court on Thursday. When Porsche finally said it was considering a bid for VW, these concerns weren't disclosed to the market, Wagenpfeil said.
Haerter and ex-Porsche Chief Executive Officer Wendelin Wiedeking are accused of manipulating VW shares with six statements in 2008. The last one, issued on Oct. 26 of that year, stated that Porsche controlled 74.1 percent of VW, partly through options, and was seeking a 75 percent stake.
The announcement caused Volkswagen's stock to jump as short sellers raced to buy shares to repay borrowed stock in bets that VW would fall. The short squeeze led to regulatory probes and law suits filed by hedge funds seeking about about 5 billion euros ($5.5 billion) in German civil courts.
Short Sellers
"Porsche claimed at the time it was disclosing the information to help short sellers sort their positions," said Wagenpfeil. "But Porsche didn't disclose its own conflicting interests. From Mr. Haerter's own statement you can already derive that the market was manipulated."
Prosecutors say Haerter and Wiedeking misled the markets when they denied through much of 2008 that Porsche was seeking to buy VW. The two men say they only decided to acquire control of VW on Oct. 26.
Haerter's lawyer, Sven Thomas, said prosecutors apparently dropped their previous theory that the Oct. 26 release was deceptive, moving to yet another attempt to give unfounded charges credibility.
The first witness in the case, an officer of the state of Baden-Wuerttemberg's crime office who led the police investigations, said there were numerous indications that Porsche's leaders planned to take over VW long before 2008.
The man,  who can only be identified as Siegfried L., cited fee arrangements with banks dating from 2007 that showed Porsche hired them to give advice on how to acquire 75 percent of Volkswagen. These documents prompted investigators to raid lenders in 2010, he said.
As of September 2008, Porsche together with the then-independent Porsche Holding GmbH controlled more than 76 percent of VW, if you include options held by both of them, said Siegfried L. 
Salzburg-based Porsche Holding GmbH was at the time a separate company but also owned by the Porsche and Piech families.
"Looking at the overall picture, I'm convinced that the plan was long decided on by the men before the formal decisions were taken," said Siegfried L.
Before it's here, it's on the Bloomberg Terminal.
LEARN MORE