Eni Reports Loss as Weak Gas and Power Compound Oil's Slump
by
Net loss compares with 1.17 billion-euro profit a year earlier

Refining margins double following decline in feedstock costs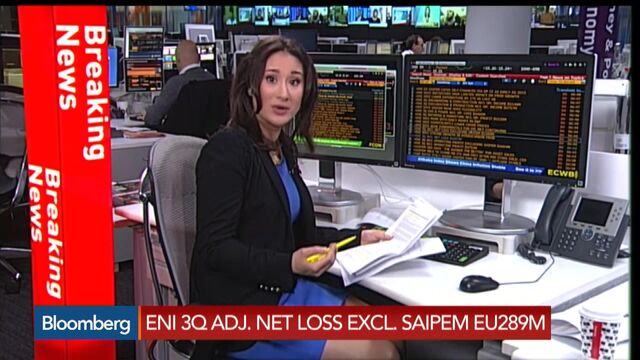 Eni SpA, Italy's largest energy producer, said profit was wiped out in the third quarter after its gas and power unit reported a wider loss and higher taxes hurt exploration and production.
The total adjusted net loss was 257 million euros ($281 million) compared with net income of 1.17 billion euros a year earlier, the Rome-based company said Thursday in a statement. The adjusted operating loss at the gas and power division expanded to 469 million euros from 180 million euros.
The disappointing gas and power results add to pressure on a company already suffering from tumbling oil prices. Brent crude, a global benchmark, has sunk about 45 percent in the past year amid a persistent glut. Eni and its peers have been forced to cut spending, sell assets and cancel projects to weather the slump, which has been partly offset by higher margins from oil refining.
The Italian company, which operates five processing plants in the country, said its refining margin more than doubled to $10.04 a barrel in the quarter from $4.39 a year earlier. Eni expects its refining division to break even in 2015, a year ahead of schedule, after benefiting from a drop in feedstock costs. Adjusted operating profit for the unit rose to 335 million euros from 12 million euros.
Contract Drag
Performance in the gas and power division was hurt by contracts Eni signed when gas prices were higher. The unit was also affected by an "unfavorable trading environment impacting certain sales to large clients," the company said in the statement.
The shares fell as much as 1.9 percent in Milan, and traded down 1.4 percent at 15 euros as of 11:46 a.m. local time.
Eni reported a tax rate of 110 percent on its exploration and production unit, compared with a 60 percent rate last year.
"Eni results are slightly messy this morning but contain two major one-offs," Oswald Clint, a London-based analyst at Sanford C. Bernstein & Co., said in a note, referring to the tax increase and gas and power loss.
Spending Cut
Eni plans to reduce capital spending by 17 percent this year, a deeper cut than the 14 percent previously forecast. Yet oil and gas production has increased thanks to field startups in countries including Angola and Venezuela, the company said, raising its forecast for full-year output growth to 9 percent from 7 percent. Third-quarter volumes climbed 8.1 percent to 1.7 million barrels of oil equivalent a day.
The increase in the target is positive, according to Giuseppe Rebuzzini, an analyst at Fidentiis Equities SV SA in Milan who also highlighted Eni's success in replacing reserves. The producer this year found a "super giant" gas field off Egypt named Zohr, which it said may hold more than 30 trillion cubic feet of gas.
Eni agreed this week to sell a 12.5 percent stake in Saipem SpA to Fondo Strategico Italiano SpA as it seeks to move debt held by the oil-services company off its balance sheet. Eni will collect 6.5 billion euros from the deal, reducing its net debt by 5.1 billion euros, the company said Oct. 27.
"Eni is changing for the good via its aim to offload its Saipem position," Jason Kenney, European head of oil and gas equity research at Banco Santander SA, said in an e-mailed note. "The move to offload the stake and deconsolidate the debt is reason for optimism."
Before it's here, it's on the Bloomberg Terminal.
LEARN MORE