Deutsche Bank's Struggles: From Jain to Cryan in Their Own Words
Deutsche Bank is facing a revamp, and the words of its current and former CEOs help explain why.
by
Deutsche Bank AG co-Chief Executive Officer John Cryan is about to shrink parts of the trading empire built by his predecessor, Anshu Jain.
Comments from the two men since 2012 shine a light on the evolution of the Frankfurt-based bank's ambitions and struggles, as toughening capital demands and mounting legal bills squeezed profitability. Cryan succeeded Jain in July.

January 2012 Jain less than five months before becoming co-CEO:
"Thanks to a series of restrictive legislation that is coming, there's going to be restrictions on business models. Having said that, there's going to be and is powerful consolidation in our industry, which means that those that survive this will actually wind up with a margin expansion over time."
June 2012 Jain in his first speech as co-CEO:
"Banks have fallen from grace. We in the banking industry must also face up to the biggest challenge of all: renewing our contract with society."
August 2012 Jain on Europe's sovereign-debt crisis:
"The European crisis has developed closer toward our more grim scenario than our better-case scenario over the course of the past two years. Our prospects and our future view on profitability is different today than it was in 2010."
September 2012 Jain on capital and return-on-equity goals versus peers:
"Some of our competitors are both offering you 12% core Tier 1 ratio and 18% ROE. Please, if you think that's achievable, that's a fantastic place to be. All I see, these are very high-capitalized competitors, vastly disappointing and promising to the future. I think in the end gravity will play a role."
January 2013 Jain on rate manipulation:
"It sickens me the most of all the scandals."
February 2013 Jain on why he wouldn't sell shares:
"We don't think it's in our shareholders' best interests for us to issue capital given our discount to book value."
April 2013 Jain on why he sold shares:
"We listened carefully to many stakeholders. The message was clear, resolving the capital issue has to be our top priority. Today, we can say that the so-called hunger march is over."
January 2014 Jain on legal issues:
"We're hopeful that toward the end of 2014, we will have the bulk of it behind us."
January 2014 Jain on reputational issues:
"Yes there were excesses, yes I have to take accountability, and I do take accountability. If you want people to lead in investment banking, I doubt you'd find people with experience that wouldn't have similar accountabilities."
May 2014 Jain on using some proceeds from a second share sale:
"Is fixed income going away? No, it's not. Do issuers and investors need these products that we are producing? Absolutely." Deutsche Bank is the only "significant European global firm left standing."
April 2015 Jain on the plan to scale back in some areas:
"We must be more focused. We must reduce the span of our client coverage, emphasizing those clients who offer and value mutually beneficial partnerships with us, but also shrinking relationships with those that don't."

July 2015 Cryan on his first day:
"Our reputation has been damaged by instances of serious misconduct. Consequent heavy fines have strained our capital resources and will likely continue to do so for some time to come. Our relationships with our regulators need to be reset."
July 2015 Cryan on plans to scale back: 
"I am not going to tell you that all will be sweetness and light in the coming months. There will be ups and downs."
"We will continue to invest in our retail and business banking, asset and wealth management and investment banking businesses. No longer, however, can our securities and derivatives trading businesses be so heavily reliant on long-term balance sheet usage. We cannot afford that luxury."
July 2015 Cryan on simplifying the bank:
"We must reduce organizational complexity, which inhibits effective decision making, blurs accountability and embeds wasteful cost."
July 2015 Cryan speaking to analysts:
"Our principal challenges are not strategic. Our challenge has been and continues to be the unsuccessful execution of our strategic intent and the continuing burden of costs relating to past events."
October 2015 Cryan on staff sharing the pain of a record loss:
"While compensation considerations are not based on this year's financial results alone, our shareholders will rightly expect employees to share something of the burden."
October 2015 Cryan after announcing a new management team:
"We want to create a better controlled, lower cost, and more focused bank that delivers long-term value to shareholders and great experiences to clients. The new structure and management team are essential to getting this done."
October 2015 Cryan on why investors should have confidence in revamp:
"What's different this time? I don't think it's a question of believing. We have to show you."
Watch Next: The Rise And Fall of Banker Bonuses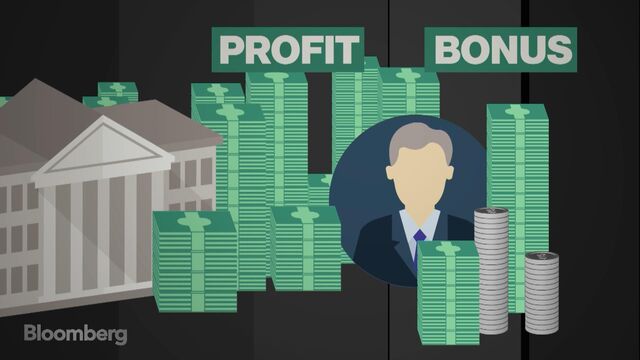 Before it's here, it's on the Bloomberg Terminal.
LEARN MORE