Danske Bank Sinks After Revenue Drops Across Income Segments
by
Profit rose last quarter after bank cut costs, impairments

CEO says bank is adopting a `cautious' approach in Sweden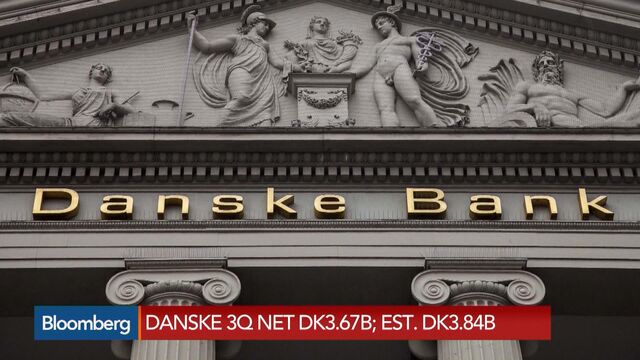 Danske Bank said revenue sank 10 percent last quarter, led by a decline in trading and net interest income, as Scandinavia's biggest lender after Nordea resorts to cost cutting to stay profitable.
Danske reported net income of 3.67 billion kroner ($538 million), 12 percent up on a year earlier, but below the 3.84 billion-krone estimate in an analyst survey compiled by Bloomberg. Net interest income fell 7 percent, while trading income plunged 36 percent.
The result needs to be viewed as a "reflection of the markets" rather than something specific to the bank, Chief Executive Officer Thomas Borgen said in a phone interview. Danske will "work on the costs if we're getting more pressure on net interest income."
But the bank may need to do more to show it can generate income, even in this climate.
"What the market really cares about is revenues," said Karl Morris, an analyst at Keefe, Bruyette & Woods. "That goes for most banks in the sector at the moment: how are they coping with the low interest-rate environment. In Denmark, they'll have to deal with that much longer."
The central banks of both Denmark and Sweden have benchmark rates that are below zero. In Denmark, where the krone is pegged to the euro, the prospect of more European Central Bank stimulus means Danish rates are set to stay negative well into 2017, most economists estimate. Norway's main rate is at a record low, though positive.
Danske's shares fell as much as 6.8 percent and traded 4.6 percent lower at 186.30 kroner as of 10:43 a.m. in Copenhagen. It was among the worst performers in the 44-member Bloomberg index of European financial stocks. Danske also cut its outlook for revenue for the year, expecting it to be "in line with" 2014, compared with an earlier expectation it would "increase."

"Danske has delivered a disappointing report in which both net interest income and fees were lower than expected," Michael Borre, Nordea's chief equity specialist, said in a note.
Borgen, now two years into the job, has pursued a strategy of taking market share from rivals in Sweden and Norway to make up for weak growth in Danske's home market, Denmark.
But Danske's growth ambitions are starting to look risky with the Danish regulator recently warning it to reconsider its position in Sweden as the property market there overheats. Danske has already been through two housing busts, in Ireland and Denmark, since the global financial crisis unfolded about eight years ago.
Danske has indicated it has no intention to scale back its operations in Scandinavia's biggest economy. "We took further steps to realize our growth ambitions in Norway and Sweden," Borgen said in the statement. But in an interview after the report, he said the bank's approach in Sweden and Norway will be cautious as it "cherry picks" customers.
Nordic banks find themselves increasingly squeezed between record low interest rates and property markets that have become dangerously inflated by cheap loans. The third quarter also showed the industry's exposure to volatile markets as banks try to find other sources of income besides traditional lending. Nordea said on Oct. 21 its profit fell 17 percent last quarter after both net interest income and revenue from fee missed estimates.
Before it's here, it's on the Bloomberg Terminal.
LEARN MORE