Cryan's Deutsche Bank Plan Leaves Investors Puzzled Over Growth
by and
Co-CEO plans to reduce workforce by 26,000, shrink assets

Investment, legal provisions, regulation to `weigh on results'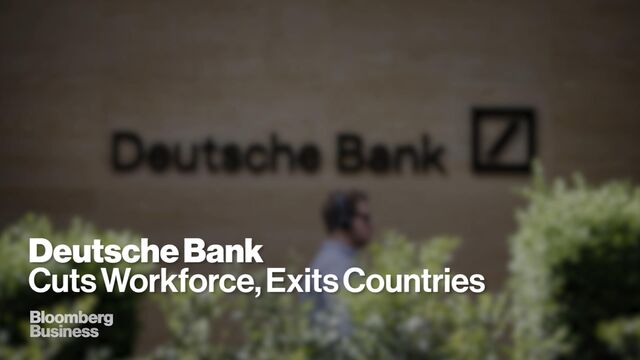 For investors, John Cryan's plan to revive profit at Deutsche Bank AG looks too much like the strategy that contributed to his predecessor's departure: thin on details. The shares fell the most in two months.
The co-chief executive officer outlined measures to lift capital by eliminating its dividend for two years and shrinking assets, while lowering costs. What he didn't provide was a path to growth as he scales back the investment bank and sheds businesses.
"What we're really missing here is an idea of what is going to go so well for Deutsche Bank that they're in a much better position in two years than they are today," said Michael Huenseler, who helps manage 15.5 billion euros ($17 billion), including Deutsche Bank bonds, at Assenagon Asset Management in Munich. "Right now, the perspective is pretty much only that they are going to be leaner and smaller."
Europe's top investment banks are scaling back their global aspirations as stricter capital rules lower profitability from debt trading and demand from clients declines. Cryan, who took over from Anshu Jain in July, is pulling out of businesses in 10 countries and shrinking headcount by about a quarter to reverse a share slump that has made Deutsche Bank the worst-valued stock among global lenders.
Decisive Year
Deutsche Bank plans to reduce the workforce by about 26,000 in the three years through 2018, Cryan told reporters in Frankfurt. That's split between 9,000 net job cuts and thousands of employees who will leave the company as it sells businesses, including its Postbank consumer-banking unit in Germany, in the next 24 months, he said.
"We don't assume that 2016 and 2017 will be strong years," Cryan said. "The costs for necessary investments, the provisions for many of our litigations and regulatory affairs will weigh on our results. 2018 will be a decisive year for us."
Cryan is probably tempering expectations in order to positively surprise investors and break with his predecessors who disappointed the market, said a fund manager at one of Deutsche Bank's 10 largest shareholders. The elimination of the dividend is tolerable if it allows the company to avoid selling shares, said the investor, who asked not to be named discussing specific investments.
Cost Cuts
Deutsche Bank shares dropped 6.9 percent to 25.58 euros in Frankfurt, after rising 17 percent over the previous month. The company trades at about 60 percent of its tangible book value, the lowest ratio among the top global banks. That indicates that it's worth less than investors would expect to receive if the firm liquidated its assets.
"There may be some disappointment that cost income targets are not more ambitious, as some had hoped," Huw van Steenis, an analyst at Morgan Stanley, wrote in an e-mailed report from London.
Cryan is targeting costs equivalent to about 65 percent of revenue by 2020, the same goal Jain formulated in April. That compares with 87 percent in 2014.
More Skeptical
"People now are questioning the revenue assumptions, more than the cost assumptions," said Alevizos Alevizakos, an analyst at Keefe, Bruyette & Woods in London. "I think they are not particularly pleased with the net cost savings, and at the same time they are more skeptical on the revenue side."
Shrinking about 70 billion euros of assets at the investment bank, Deutsche Bank's largest unit, will cut revenue by about 1.1 billion euros through 2018, according to slides the company published on its website. Deutsche Bank said it is targeting revenue growth to offset losses of income through the restructuring by 2018.
Within the investment bank, the firm will reduce the number of clients by about half, especially in "high-risk" countries. About 30 clients produce 80 percent of revenues in these business divisions, the bank said. The lender's consumer offering will be reduced by one third, Cryan said.
"The big question is whether earnings increases are even possible in coming years after the drastic asset reduction and costs savings," Helmut Hipper, a fund manager at Union Investment, one of the company's top 20 shareholders, said in e-mailed comments. "There's no answer yet, that's why capital markets are skeptical."
Before it's here, it's on the Bloomberg Terminal.
LEARN MORE