Costco Sparks Excitement in Madrid as Spaniards Spend Again
By and
Retail sales are growing at annual rate of more than 4%

Inflation rate hasn't risen above zero since mid-2014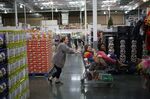 When U.S. retail giant Costco opened a new store in Madrid this month, throngs of shoppers jostled to get in. Among them was Ivan Alonso, ditching his recession-driven savings habit as he hunted for a new pair of trainers.
"I was saving all my money just in case I got fired, a lot of people were losing their jobs so it wasn't a time to be shopping for stuff," the 42-year-old shop assistant said while pushing his trolley along with his wife. "Now it looks like things have settled down, so why not?"
The Costco opening, along with a Primark store launch earlier in the month, reflects a more buoyant consumer backdrop in Spain, where unemployment is slowly declining and the economy is at the forefront of the euro area's recovery. That's feeding through to consumers, boosting confidence and unleashing years of pent-up demand.
Spanish retail sales grew at the fastest pace in nine months in September, the Madrid-based National Statistics Institute said on Thursday, extending gains to a 14th month. A separate release showed consumer prices fell 0.9 percent in October, reflecting a drop in energy costs that's boosting spending power.
Speaking in a television interview after the data, Economy Minister Luis de Guindos said the strong retail sales figure in what is typically a challenging month -- as families return from their vacation and the school term starts -- reflected the strength of the economy.

The improving labor market is also playing a part. After workers took a battering during the crisis, unemployment has fallen to a four-year low and the government is forecasting 600,000 new jobs this year. In addition, a series of tax breaks has injected 3 billion euros into the economy, according to the government.
"Spain has seen a strong pick up in private consumption, a lot of it driven by middle-class and high-income families that were extremely cautious about spending and took a big adjustment during the crisis," Miguel Cardoso, chief Spain economist at Banco Bilbao Vizcaya Argentaria SA, said in an interview in Madrid. "What we're seeing now is pent-up demand coming to surface."
GDP data on Friday is forecast to show growth slowed to 0.8 percent in the third quarter from 1 percent, though that would still be twice the euro-area average. The economy is projected to expand more than 3 percent in 2015.
Hitting the Mall
The nation's changing fortunes are proving a lure for large retailers, with two major openings, Costco and Primark, a unit of London-based Associated British Foods Plc, taking place amid much fanfare this month.
The budget retailer Primark opened its Madrid store on Oct. 15 in the shopping avenue of Gran Via, causing traffic jams as bargain hunters turned up by the hundreds. Costco Wholesale Corp. is also taking advantage of the upturn after entering the Spanish market in 2014 -- it has plans for another store in the capital and two more in Barcelona and Valencia.
Sales at Spain's 547 shopping malls will grow 6 percent this year as footfall increases 5.7 percent, according to estimates from Spain's Association of Shopping Malls. Investors spent 2.5 billion euros ($2.7 billion) on centers in 2014, up from 618 million euros in 2013, industry data show.
Blackstone Group LP, Klepierre SA and UBS are among those involved in deals this year. In the first 10 months, 1.5 billion euros worth of shopping centers have changed hands in 23 transactions.
"After various years of subdued activity in the sector, the increase in sales has made retailers more optimistic again," said Patricio Palomar, head of alternative investments at CBRE Group in Spain. "We're definitely going to see more openings."