Cooling Off the South China Sea
Conflicting claims over the sea don't have to degenerate into open hostility.
By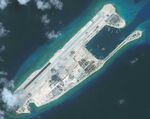 On Oct. 27 the simmering waters of the South China Sea came to a slow boil. A U.S. Navy destroyer, the USS Lassen, conducted a freedom-of-navigation cruise within 12 nautical miles of a Chinese-built artificial island in the Spratly archipelago. The Chinese government vowed to "firmly react to this deliberate provocation."
There's a scenario in which gunboat diplomacy degenerates into outright hostilities. Ships bump, planes collide, shots are fired. Sailors and airmen die. Carefully cultivated diplomatic relations unravel, and commerce and investment between the world's two biggest economies break down.
This conflict doesn't have to end badly, though. Even without a full agreement, it should be possible to downgrade the South China Sea from a casus belli into just one irritant in a typically complex great-power relationship. Bonnie Glaser, director of the China Power Project at the Center for Strategic and International Studies, a Washington think tank, has consulted in the past for the State and Defense Departments. "I'm not optimistic it can be solved," she says, "but I'm optimistic it can be managed."
To defuse tensions without simply folding, the U.S. needs to take advantage of a quality that until now has been China's province: ambiguity. For years, the Chinese have been deliberately vague about their claims in the South China Sea even while building what one American general calls a "Great Wall of Sand" on contested islets, shoals, and reefs. Its famous "nine-dash line" that extends from the mainland like a fat tongue truly does look dashed off. China has never made clear whether it's claiming all the waters of the South China Sea or just the land features within it.
Ambiguity has aided China's expansionary strategy by keeping the U.S. and others at bay. China has pushed the envelope of its claims a little at a time, unpredictably, usually using civilians rather than armed forces, and never quite enough to provoke a concerted response. Daniel Russel, the U.S. assistant secretary of state for East Asian and Pacific affairs, testified in Congress last year that China's approach creates "uncertainty, insecurity, and instability."
But what people tend to miss is the fortunate fact that by being ambiguous, China has created few red lines or tripwires in the South China Sea. The U.S. and China's neighbors can therefore push back—slowly, carefully—without necessarily forcing an eruption. For years the U.S. has been urging China to clarify its claims in the sea so they can be adjudicated by the proper international tribunals. It's lucky that China never did so, because now it's possible for President Xi Jinping to revise his ambitions without losing face with his own people.
That's not to say this will be easy. China's Foreign Ministry warned on Oct. 27 that it will take "all necessary measures" to defend what it calls Chinese territory. During a reporting tour of China in September hosted by the China-U.S. Exchange Foundation, I spoke with numerous Chinese who appeared deeply convinced that their cause is just and the U.S. is in the wrong by attempting to prevent the country's peaceful rise. Eric Li, a venture capitalist in Shanghai with degrees from the University of California at Berkeley and Stanford, says flatly: "The U.S. wants to dominate the world. That's the objective. China only wants to keep the U.S. from dominating."
China's military buildup seems to have emboldened some people, including Li. He says the U.S. is "punching above its weight" in the South China Sea, because if push came to shove, China could knock out U.S. aircraft carriers with cheap and abundant missiles. That attitude appears to extend to the top. Asked why China is asserting itself now, a senior official in the People's Liberation Army, who spoke on condition of not being named, said, "I think I should be frank: Because China now has the capability." The same official said there are more than 200 other land features in the South China Sea that China could seize and build on within 18 months, implying that the U.S. should be grateful for China's forbearance.
Council on Foreign Relations President Richard Haass has called the U.S. dilemma "nothing short of exquisite." Facing down China risks a military conflagration, but doing nothing could be worse. "It would be very damaging for international rules and order. It sets a bad precedent," says Nadège Rolland, a former adviser to the French Ministry of Defense who's a senior project director at the National Bureau of Asian Research in Seattle.
The way forward probably won't go through such bodies as the International Court of Justice or the International Tribunal for the Law of the Sea. China has repeatedly rejected entreaties to submit its claims to those authorities, saying it wants to settle its differences with its neighbors one on one. As a sovereign nation, it can't be just hauled into court.
The U.S. and China's neighbors in the region are more likely to make progress by playing China's own cat-and-mouse game, except better. They have the advantage of solidarity: Brunei, Malaysia, the Philippines, and Vietnam have begun to set aside long-standing disputes with one another to present a united front against Chinese aggression. China's land grabs could backfire. Some Chinese worry that "we picked up the seeds but lost the watermelon," Yang Jiemian, a senior fellow at the prestigious Shanghai Institutes for International Studies, said in an interview at the research firm.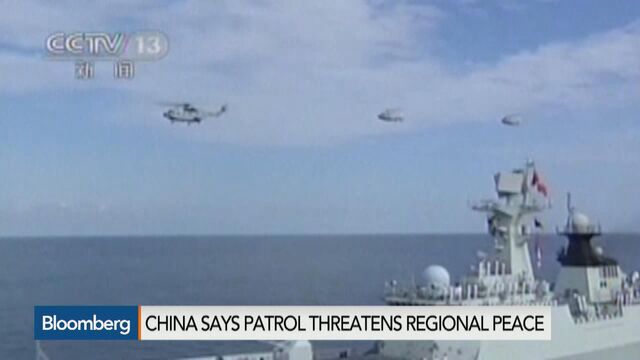 While Xi is determined to protect what he sees as Chinese territory, he realizes the risk of becoming a pariah. In his news conference with President Obama in Washington in September, he said China's activities in the South China Sea "do not target or impact any country, and China does not intend to pursue militarization." Some would argue that the docks, airstrips, and antennas that China has already built constitute militarization, but the point is that Xi is somewhat sensitive to world opinion. The government-owned Global Times struck one note of restraint, advising the Chinese to "stay calm and handle the harassment rationally," and for the USS Lassen to "go through the motions and get lost."
How the U.S. plays future freedom-of-navigation sails will be crucial. Wisely, American authorities have been talking openly about conducting operations since last spring, giving the Chinese plenty of time to digest the news. The U.S. reserves the right to sail at the time of its choosing, but the Navy should use the channels of military-to-military communication that the two countries have prudently established.
Above all, the U.S. needs to make clear that it's not taking sides in territorial disputes between China and its neighbors—that it's simply reasserting the right of any nation to sail freely in international waters. (Under the law of the sea, an island built on a reef that's submerged at high tide isn't entitled to the 12-nautical-mile territorial limit.) The U.S. quietly signaled its evenhandedness on Oct. 27. A Department of Defense spokesman tells Bloomberg Businessweek that the USS Lassen also cruised that day past two islands claimed by Vietnam and two claimed by the Philippines.
Max Baucus, the U.S. ambassador to China and a former senator from Montana, sounds the right note. "I like to think that the approach for all of these critical points can be boiled down to the three Ps," he told the American Chamber of Commerce in Shanghai last year. "That's persistence, that's patience, and that's being positive."
Before it's here, it's on the Bloomberg Terminal.
LEARN MORE