pursuits
China's Graying Migrants Have a Hidden Stash of Money to Spend
Bloomberg News
Aging population could be `powerful lever' for consumption

Challenge is to ensure aging takes place in vibrant economy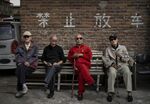 Migrant worker Guo Huailiang is planning to live it up a bit in his retirement.
After 19 years living in cramped quarters in Beijing, rising at 5:30 a.m. for a 12-hour shift, the 52-year-old construction worker is socking away money that would allow him to return to his eight-room house and 4-acre plot in the countryside, spend a bit of cash and travel. He's dreaming of trips to Hainan Island, Taiwan and even South Korea.
Multiply Guo by the millions who migrated to China's cities, toiling away in factories and building sites for decades, and you have a hoard of savings that stands to revolutionize China's consumer market. It turns out that China getting old may just help create the balanced economy its leaders have been aiming to engineer.
"China's aging should definitely support the shift away from investment and exports towards consumption," said David Dollar, a senior fellow at the Brookings Institution in Washington who previously worked for the U.S. Treasury in Beijing. "We have seen this previously in Japan, Taiwan, and South Korea with an increase in consumption as a share of GDP as the population aged."
In China, the shift may be even more rapid because of the one-child policy rolled out in the late 1970s, Dollar said.
In an historic shift, the party's decision-making Central Committee approved plans to allow all couples in China to have two children, the official Xinhua News Agency said Thursday at the end of a four-day gathering in Beijing. That waters down a policy that saw the world's most-populous country skew its demographic profile.
Party Plenum
Like many migrant workers, Guo was born in the 1960s and was one of millions who left their farms and villages to staff the factories that rose in the coastal cities as the country's economy opened up.
Guo came in 1996 from near the city of Handan, about two hours by high-speed train from the capital. He earns 30,000 yuan ($4,700) a year. That's not much compared with the new middle class China is hoping will drive the consumption boom.
But China's aging migrant workers have several advantages for boosting consumption. First, they've been saving for a while. Guo and his wife expect to have amassed 500,000 yuan by the time he retires after 60. His food and spartan 15-square-meter room are provided by his employer, so he only spends a tenth of his income. Once he retires, he expects his spending to triple, not including the trips.
Second, there's a lot of them. The number of people in China aged 60 and above will increase by almost 36 million by 2020, to 245 million. By 2030, the number will have surged by almost 149 million -- more than the combined populations of Germany and France -- to 358 million.

"China's rapid population change could inadvertently turn out to be a powerful lever for shifting it toward a more normal, consumption-based economic model," said Nicholas Eberstadt, a demographer at the American Enterprise Institute in Washington.
Already the age profile of Chinese tourists overseas is changing, with early-retirement age Chinese joining adventurous youths in flocking to tourist sites around the world, said Wang Feng, a professor of sociology at the University of California, Irvine.
This is the "early beginning" of aging's impact on consumption, and the full force will unfold over the coming decades, said Louis Kuijs, head of Asia economics at Oxford Economics Ltd. in Hong Kong.
The savings of the migrants will add to a pot of money built up by the urban middle class, which has grown out of the surge in incomes over the past 15 years. Their savings and relatively generous pension and health care benefits in urban areas will allow them to consume to an extent unseen in the past, said Wang at the University of California.
To date, many Chinese people have been cautious about spending. High property costs and rudimentary healthcare and pension cover in rural areas have caused so-called precautionary savings to be high, even for the wealthier middle class.
The result is that consumption as a percentage of gross domestic product is among the lowest in the world, while the savings rate is among the highest. China's household consumption was about 36 percent in 2013, compared with 69 percent in the U.S., 59 percent in India and 62 percent in Brazil, according to the World Bank's most recent data. China's deposits at the end of September totaled about $21 trillion.

As the ratio of workers-to-dependents declines, so will household and government savings, partly because of spending on healthcare and pensions, said David Loevinger, a former China specialist at the U.S. Treasury.
"It's a movie we've seen before in North Asia," said Loevinger, now an analyst at fund manager TCW Group Inc. in Los Angeles. "Some of the global savings glut will dissipate as China and the rest of East Asia gets older."
Of course, the spending of migrant workers' stored savings would at best provide a temporary boost unless China can also successfully manage the transition to an economy with a smaller workforce. In Japan, an aging and shrinking population tended to reduce economic vitality and entrepreneurship, said Kuijs.
"By itself, a rise in the share of pensioners will help China with the rebalancing towards more consumption," he said. "The challenge for policymakers is to ensure that this rebalancing takes place in a vibrant, solidly growing economy."
Less Optimistic
Some migrant workers are less optimistic about their future spending power. Li Bengsheng, 50, from a rural area in Fujian province on the east coast, says the cost of finding his 18-year-old son a wife will be 200,000 yuan. Weddings in China frequently include a betrothal payment and building and furnishing a new home.
For Guo, who often goes six months without a day off and intends to work even longer hours in the remaining years before his retirement, this is less of a problem. His three children, all in their 20s, are doing well in their jobs, he said. Meantime, insurance will cover about 70 percent of his future health costs.
"I'll enjoy my life when I get old," he says. "I'll seize the time now to work more, make money, and save more. There's no other way."
— With assistance by Xiaoqing Pi, and Kevin Hamlin
Before it's here, it's on the Bloomberg Terminal.
LEARN MORE