Cameron Sees EU Reform Drive Gaining Momentum After Nordic Push
by and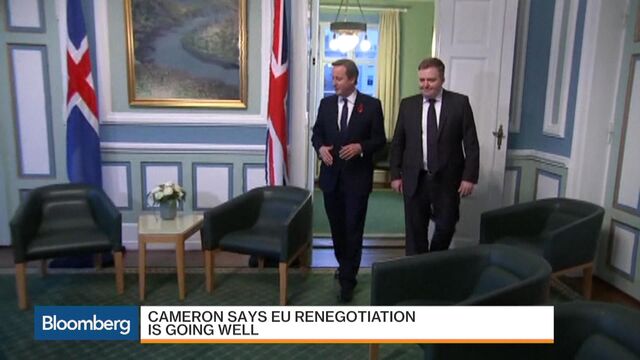 Prime Minister David Cameron said Britain's negotiations with the European Union are set to gain momentum as he received the conditional support of like-minded Nordic leaders in his push to improve the bloc's single market and cut red tape.
At a Nordic and Baltic summit in Reykjavik, prime ministers from Denmark and Finland also signaled backing for one of Britain's key reform demands -- the need to limit access to welfare payments for citizens from other member states. While Cameron has yet to produce a full list of the changes Britain requires, he pledged on Thursday to do so in a letter the the EU commission president in early November.
"I'm confident we can get a good settlement for Europe and a good settlement for Britain," Cameron told a press conference at the close of the conference. "I'd argue it's going well. Now the pace will quicken." Britain's demands for reform were receiving "strong" support, he said.
Still, with both Denmark and Finland oppose limiting the freedom of movement of people within the bloc or resorting to complex alterations to its treaties, the issue of curbing so-called in-work benefits remains far from resolved.
"The EU was built around free trade and a strong political cooperation to prevent political conflicts from becoming violent," Danish Prime Minister Lars Loekke Rasmussen said in an interview. "The EU isn't about micro-management."
'Complex Task'
At the same time, "the renegotiation of treaties will be a very difficult path to choose," Rasmussen said. "It's an enormously complex task that takes a lot of political energy and effort."
Cameron has joined leaders from the Nordics and the Baltics in the Icelandic capital for an informal exchange of ideas on such varied topics as the Syrian crisis, creative industry and smarter government. The leaders present also learned how to make a duck with six pieces of Lego -- a challenge Cameron joked he looked forward to showing his children.
The Northern Future Forum is an annual event, attended since 2011 by politicians and business people from Denmark, Estonia, Finland, Iceland, Latvia, Lithuania, Norway, Sweden and the U.K.
But with a crucial take-or-leave referendum on EU membership on the horizon, the most urgent subject matter was how precisely Cameron intends to keep Britain in the EU.
Concrete Details
Cameron is due to discuss his proposals with EU President Donald Tusk ahead of a crucial summit in Brussels in December.
While Finnish Prime Minister Juha Sipila expects his focus to be on the "internal market" and creating jobs, "I don't know the concrete details of what the British will suggest," he said in an interview late Wednesday.
With both the Danish and Finnish prime ministers cautioning against seeking changes to EU treaties, Rasmussen has been offering an alternative solution.
"I see some possibilities to stay within the treaties," Rasmussen said in the interview. Denmark successfully negotiated opt-outs from key EU policy areas such as defense and justice at an agreement in Edinburgh in 1992.
The Edinburgh Agreement model could now be used to address Britain's misgivings about how the EU is run, the Danish premier said.
"It's a method which has worked before," Rasmussen said.
Cameron has already rejected calls from British euroskeptics to imitate Norway, which he argues pays a hefty price for accessing the EU's internal market, without however having any say in how it is run.
Before it's here, it's on the Bloomberg Terminal.
LEARN MORE