BT Earnings Fall on Sports Investment to Attract Subscribers
By
Company adds 106,000 TV customers in the second quarter

Adjusted second-quarter Ebitda tops analysts' estimates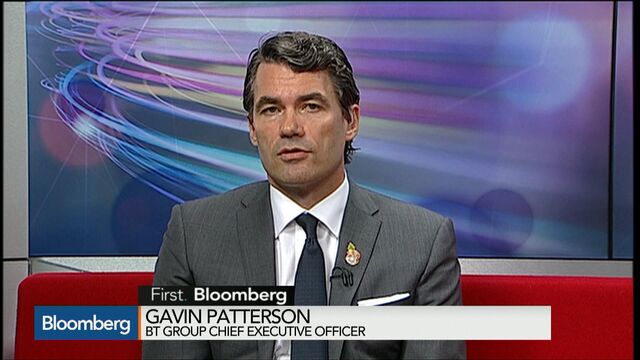 BT Group Plc's earnings fell last quarter after the U.K.'s biggest broadband provider boosted spending on exclusive rights to broadcast high-profile soccer games to attract pay-TV customers.
Adjusted earnings before interest, taxes, depreciation and amortization declined about 1 percent to 1.44 billion pounds ($2.2 billion) in the three months ended September, the London-based company said in a statement Thursday. That compares with the 1.42 billion-average of estimates compiled by Bloomberg. BT added 106,000 TV customers in the period, compared with 60,000 in the preceding quarter.
The stock fell 0.7 percent to 465.5 pence in London at 9:26 a.m.
The company has committed billions of pounds in the last few years to win exclusive broadcasting rights for English and European soccer games. While profit in the consumer business took a hit in the quarter, with Ebitda declining 10 percent from a year earlier at the unit, Chief Executive Officer Gavin Patterson said he's willing to continue investing in sports content, which has turned the unit into the company's biggest growth driver.
"Our investments in sport are really working for our business," Patterson said in an interview with Bloomberg TV. "The opportunity exists to increase the size of the market and make it available to more and more customers. Our approach is very disciplined and we're very clear about what sports add value to our proposition."
The company reported a 7 percent increase in revenue for its consumer business. BT committed to the Champions and Europa League rights in 2013, agreeing to pay 299 million pounds a season for three seasons, starting this year. Total revenue last quarter was little changed from a year earlier at 4.38 billion pounds, slightly ahead of the 4.33 billion pounds analysts had predicted.
Revenue at BT's global services unit, its biggest business, which provides networking services for enterprise customers, declined 5 percent to 1.56 billion pounds in the quarter.
Breakup Threat
The former British telephone monopoly is reinventing itself with mobile and pay-TV products. In addition to the TV channels -- used to win users to its high-speed fiber Internet service and away from rivals such as Sky Plc -- BT has agreed to buy EE Ltd., giving it access to the country's biggest mobile carrier by customers.
The U.K. competition regulator said Wednesday in a preliminary finding that the deal, combining the biggest fixed and mobile operators in the country, won't weaken market competitiveness.
Still, BT's size has united many of its rivals in calling for its breakup. Ofcom, the telecommunications regulator, is considering whether to split BT from its Openreach unit, the part of the business that sells access to its network to rivals at regulated rates.
Sales at the Openreach division rose 2 percent to 1.27 billion pounds.
Competitors such as Vodafone Group Plc and TalkTalk Telecom Group Plc say that although Openreach is supposed to be relatively independent, the company doesn't have enough incentive to offer fair prices or fix network faults quickly. Ofcom plans to present its preliminary recommendations, part of a once-in-a-decade review of the telecommunications industry in the U.K., around the end of the year.