Tough Justice
A biography of Ruth Bader Ginsburg adds some heft to her online fame.
By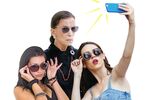 The yearbook for James Madison High School in Brooklyn, N.Y., predicted a member of the class of 1950 would end up on the U.S. Supreme Court—just not the right one. Joel Sheinbaum became a dentist; Ruth Bader, who later took her husband Marty Ginsburg's name, joined the high court.
Notorious R.B.G., a biography of the justice, is stuffed with tongue-in-cheek anecdotes like that. Even better, the book, though slender, contains ample historical detail and enough carefully annotated legal material to serve as an ideal entry point for readers curious about Ginsburg but intimidated by the thought of heavy-duty constitutional analysis. And it's inspiring: Ginsburg has lived a classic American story of individual achievement in the service of a greater good.
Less predictably, she's also become an Internet meme. The title Notorious R.B.G. is borrowed from a popular Tumblr blog created in 2013 by the book's co-author, NYU School of Law graduate Shana Knizhnik. In June of that year, Ginsburg issued a blistering dissent against the conservative-led court's decision to gut a central provision of the Voting Rights Act of 1965. "Hubris is a fit word for today's demolition of the VRA," she wrote. Concluding that racial discrimination is a thing of the past made as much sense as "throwing away your umbrella in a rainstorm because you are not getting wet."
While older liberals howled at the civil rights setback, twentysomethings took to Instagram, Tumblr, and Facebook to declare their admiration. "Can't spell TRUTH without RUTH," declared one campaign over a photo of Ginsburg wearing a crown. Cool girls Amy Schumer and Lena Dunham name-checked Ginsburg as an emblem of feminist cool. Saturday Night Live cast member Kate McKinnon began playing a recurring black-robed R.B.G. who punctuates put-downs with "You just got Gins-burned!"
Notorious R.B.G., a reference to the deceased 1990s rapper Notorious B.I.G., was a moniker that stuck. The contrast is absurd—a 300-pound black man well acquainted with the streets vs. a diminutive, 82-year-old white woman at home in the ivory tower. In other ways, the comparison isn't so far off. They share a Brooklyn heritage, for one. Irin Carmon, a reporter for MSNBC and the book's other author, writes: "Like the swaggering lyricist, this tiny Jewish grandmother … could also pack a verbal punch."
With its squarish shape, sturdy paper stock, and abundant sidebars and timelines, Notorious R.B.G. looks like a junior high textbook. But rather than diminish its subject, the presentation conveys a youthful enthusiasm and delineates a clear chronology of her ascent. She persevered in the face of rank sexism at Harvard Law School (where the dean demanded she explain why she deserved to fill a man's slot), struggled to establish herself as a law professor, then evolved into the leading women's rights litigator of the 1970s.
As a courtroom lawyer—the Thurgood Marshall of women's rights—Ginsburg prized incremental advances over flamboyant rhetoric or sudden change. She worried, not without justification, that 1973's Roe v. Wade decision relied on shaky legal reasoning and moved too far, too fast. In her own cases, she chose to represent male plaintiffs who were denied government benefits provided to women, such as Social Security supplements available to widows but not widowers. "Gender discrimination," Ginsburg argued before the all-male Supreme Court in a 1977 case, "is a two-edged sword."
While reading, I worried that the book's embrace of Ginsburg's meme-ification might trivialize an important historical figure. There's some danger of that. On the other hand, I'd rather people Tumblr-fy Ginsburg than overlook her for the Kardashians. And among the many facts the authors get right, one stands out by the end: She is a total badass.
Before it's here, it's on the Bloomberg Terminal.
LEARN MORE