Bayer Profit Beats Estimates Amid Higher Blood Thinner Sales
by
Sales of Xarelto climbed 31 percent; Eylea jumped 67 percent

Drugmaker projects sales of 46 billion euros for 2015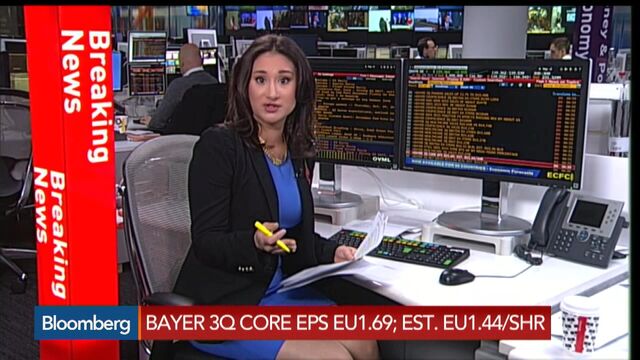 Bayer AG, Germany's biggest company by market value, posted third-quarter profit that beat analysts' estimates as sales of new pharmaceutical products including the blood thinner Xarelto and eye treatment Eylea soared.
Earnings before interest, taxes, depreciation and amortization, and excluding some costs, climbed 28 percent to 2.52 billion euros ($2.7 billion), the Leverkusen, Germany-based company said in a statement on Thursday. That surpassed the 2.26 billion-euro average estimate of 14 analysts surveyed by Bloomberg.
Chief Executive Officer Marijn Dekkers has over the past year restructured Bayer to focus on its more lucrative life sciences businesses. Last month, he sold a stake in the Covestro AG plastics unit through an initial public offering, and in June divested a diabetes devices business. Meanwhile he has bolstered the consumer health division by acquiring Merck & Co.'s over-the-counter medicines in 2014, gaining household-name brands such as Claritin, Dr. Scholl's and Coppertone.
'Good Result'
"This is a good result considering the market environment," said Ulrich Huwald, an analyst at Warburg Research in Hamburg. "We shouldn't assume these developments will continue into Q4, there is pressure from the global economy and emerging markets."
Shares of Bayer climbed 0.6 percent to 120.10 euros as of 9:32 a.m. local time. The stock has gained 11 percent in the past year.
Bayer's revenue rose 11 percent to 11 billion euros. Sales of the health-care unit, which includes the pharmaceuticals division and consumer health, climbed by 19 percent to 5.65 billion euros. Revenue from the crop sciences or agricultural unit rose by 9.5 percent to 2.11 billion euros.
Dekkers plans to reorganize Bayer under the three divisions -- pharmaceuticals, consumer health and crop sciences -- starting in January. The divisions would each have their own management and board of directors.
Life Sciences
"By focusing on the life sciences businesses, we will concentrate even more intensively in the future on two of the greatest challenges of the 21st century," Dekkers said in the statement.
The company continues to hold a 69 percent stake in Covestro following the IPO, which raised 1.5 billion euros. Covestro on Tuesday reported that third-quarter profit, excluding some costs, climbed 45 percent to 471 million euros.
The company said it expects sales of 46 billion euros for the full year, with a 6 percent benefit from foreign exchange. In July, Bayer said it expects 2015 sales will climb to 47 billion euros, with exchange rates providing a 7 percent boost. Ebitda, excluding one-time items, and another measure of profit called core earnings per share are still likely to grow by a high-teen percentage, it said today.
Before it's here, it's on the Bloomberg Terminal.
LEARN MORE