Batteries With a Political Charge
Obama favorite A123 does better under Chinese management.
By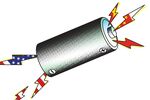 Outside Detroit, a Chinese-owned company is churning out lithium ion batteries for more than 30,000 vehicles this year. The 200,000-square-foot plant in Livonia, Mich., which used to make VHS tapes, is humming 24/7 with only a couple dozen people per shift. The operation doesn't need many hands; batteries don't react well to moisture, and keeping the humidity low is easier with fewer bodies. Most of its high-voltage models are for Chinese cars and buses, and the low-voltage ones go to Europe. What makes this remarkable: The company is A123 Systems, a tarnished showpiece of the Obama administration's stimulus-era loan program for electric vehicles.
"This is about the birth of an entire new industry in America, an industry that's going to be central to the next generation of cars," President Obama told the assembled workers by phone when the Livonia plant opened in 2010. "The work you're doing will help power the American economy for years to come." But in 2012, after two years of losses and a damaging battery recall, A123 filed for bankruptcy protection and began looking for a buyer. The best offer came from the U.S. division of Chinese conglomerate Wanxiang Group, which promised not to shut down the American operations.
Wanxiang is having better luck. This year, A123 Chief Executive Officer Jason Forcier says, revenue will reach about $300 million and the company will break even for the first time. A123 plans to invest $800 million over the next four years to expand its plants in North America and China and build some in Europe. The company isn't a serious rival to Panasonic, Automotive Energy Supply, or LG Chem, but it's a leader in the emerging market for lower-voltage hardware. "It's ironic," says Thilo Hanemann, who tracks cross-border investment for the Rhodium Group, an advisory firm. "A123 is one of the prime examples of a successful Chinese investment in America."
Early on, the MIT professor who co-founded A123 in 2001 took advantage of submicroscopic electrode powders he had developed that were safer and more powerful than others. The company flitted to various markets, producing batteries for cell phones and high-end power tools, but struggled to find a profitable niche. "Then along came the best thing that ever happened to A123, which was the recession in America," says Forcier, who had experience in the auto supply industry and was hired in 2009 to run A123's vehicle business. To reduce oil import needs and carbon emissions—and improve job growth—the Obama administration wanted 1 million electric cars on U.S. roads by 2015.
The U.S. Department of Energy awarded A123 a $249 million matching grant, one of its biggest, to build battery factories. To pay its share, A123 got about $100 million from investors including General Electric and Qualcomm. Michigan's then-governor, Jennifer Granholm, drew the company to Livonia with $100 million in tax breaks. After raising about $380 million in an initial public offering in the fall of 2009, A123 was valued at more than $2 billion on paper, but its auto operations consisted mainly of an agreement to make batteries for Chrysler.
Chrysler's own troubles scotched that deal. "Now we had these huge factories and a lot of expectations, but we needed a customer," Forcier says. He bet on another federally backed company, Fisker, which was in a hurry to begin production of a $100,000 plug-in hybrid called the Karma. "There was so much pressure," Forcier says. "It was just, 'Go fast.' "
Unfortunately for A123, the Karma was bad. Fisker couldn't keep to its schedule, and its A123 battery failed during a Consumer Reports test. A123 recalled the batteries in 2012 while it was running low on cash and filed for bankruptcy that October. Wanxiang paid $257 million to acquire the company in early 2013.
Wanxiang has been operating in the U.S. since 1994. It's bought more than 20 companies, many distressed, and manages them as a private equity firm might. Chairman Lu Guanqiu lives in Hangzhou, China; his son-in-law, Pin Ni, lives in Chicago, where he runs the U.S. operations, which include real estate holdings and now Fisker, too. The family put Forcier in charge of A123 two years ago with a mandate to keep cutting expenses without compromising R&D. By that point, A123 had about 500 U.S. employees, half as many as at its peak in 2010. Forcier reduced health-care benefits for those who remained and trashed perks such as free food and the cappuccino machine. "We were running this place like we were Apple or Google," he says.
Amid A123's death and rebirth, the company missed out on the big U.S. contracts for electric vehicles. LG supplies batteries for General Motors' and Ford's electric cars, and Tesla signed with Panasonic. So A123 had to focus on its low-voltage batteries, meant to be used in lightweight sports cars or in tandem with old-school lead-acid models. Among its earliest customers was McLaren; others now include Ferrari and Daimler, which use the batteries in hybrid cars. For automakers looking to meet various governments' rising fuel-economy standards, A123's batteries can reduce a vehicle's fuel consumption by 3 percent to 5 percent, says Dean Frankel, an analyst at Lux Research.
Lead-acid still dominates the battery market, partly because lithium ion models typically don't work well in the cold. In April, A123 introduced UltraPhosphate, a low-voltage lithium model that can crank out more power at lower temperatures than lead-acid models, down to -30C. Frankel says A123 is in a good position to siphon business from lead-acid battery makers and to win contracts with makers of microhybrids—tiny cars that shut off their engines when stopped at intersections and use electric batteries to jump-start the engines when the light turns green. Frankel notes that this market could rise from $1.4 billion in 2015 to $2 billion in 2016.
For now, A123's biggest orders come from China, where it supplies high-voltage batteries to carmakers Chery and Shanghai Automotive and bus maker Tianjin Santroll. Some of those deals predate Wanxiang's purchase of the company; now the ownership is an advantage in terms of winning business and working with the Chinese government.
That may make things a little awkward as the U.S. presidential primaries draw near. The Republican National Committee has filed Freedom of Information Act requests related to Wanxiang's purchase of A123 and says it's looking to expose any supposed involvement in the deal by Democratic front-runner Hillary Clinton. The Clinton campaign declined to comment. Little surprise, then, that Wanxiang's name is nowhere to be seen at A123's Livonia facility. "You wouldn't know it is a Chinese company," says Jeff Kessen, vice president for corporate strategy. "We don't hide it, but we don't promote it."
The bottom line: Wanxiang has turned around A123 by cutting costs and taking advantage of hundreds of millions of dollars of U.S. investment.
Before it's here, it's on the Bloomberg Terminal.
LEARN MORE