Barclays Sees Risk of Further Conduct Costs, Cuts Profit Target
by and
Third-quarter profit falls 10%, more than analysts forecast

Bank cuts return-on-equity target for 2016 to 11% from 12%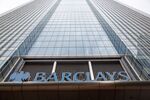 Barclays Plc said it doesn't expect conduct charges to drop anytime soon after rising costs prompted Britain's second-largest lender to cut its profitability target for 2016. The shares slumped.
Third-quarter pretax profit, including restructuring costs, fell 10 percent to 1.43 billion pounds ($2.2 billion) from a year ago, the London-based bank said Thursday. That missed the 1.65 billion-pound average estimate of 14 analysts surveyed by Barclays. The bank cut the target for its return on equity to 11 percent from 12 percent for 2016, hurt by 560 million pounds for misconduct and redress and a projected 1 billion pounds of restructuring costs.
"Conduct and litigation is at an elevated level" and "we're not really assuming much of a drop off at all," Finance Director Tushar Morzaria said on a call with investors. "It will carry on at the kind of elevated levels that we've seen."
Banks across Europe are struggling to restore earnings growth as they're battered by surging legal costs. Barclays on Wednesday named former JPMorgan Chase & Co. veteran Jes Staley chief executive officer to help speed up cost cuts and boost profitability. At Deutsche Bank AG, co-CEO John Cryan said on Thursday he will shrink the workforce by about 26,000 people by 2018.
Redress Provisions
The shares dropped the most since June 26 last year, the day after the lender was sued by New York Attorney General Eric Schneiderman for allegedly lying to customers about practices in its private-trading venue, known as a dark pool. The stock closed down 6.3 percent at 237.25 pence in London, swinging the bank to a loss of 2.6 percent this year.
"The legacy and fresh provision for past misdemeanors has again reared its head," said Richard Hunter, head of equities at Hargreaves Lansdown. There is "no obvious end in sight to consigning these issues to history.
Barclays took a 290 million-pound provision to compensate customers who were overcharged for currency trades and set aside 270 million pounds to settle residential mortgage-backed securities claims in the U.S. While it didn't follow Lloyds Banking Group Plc in taking another charge for wrongly sold payment protection insurance in the third quarter, the total Barclays has set aside for all U.K. customer compensation this year has now reached 1.3 billion pounds, up from 910 million pounds last year.
Morzaria declined to elaborate on the foreign-exchange charge, calling it a "historical item" that occurred between 2005 and 2012.
'Customer Cohort'
"We are really working though that customer cohort where we believe we didn't apply the most appropriate foreign-exchange rate and are looking to make good on that," he said on a call with reporters. "Our real objective here is to ensure that we come to a fair outcome for affected customers and to deal with that as expeditiously as we can. We believe the provision taken to be prudent and sufficient."
The latest provisions illustrate the challenges faced by American-born Staley, who will take up his post in December. Since joining in April and ousting Antony Jenkins as CEO three months later, Chairman John McFarlane has pledged to deepen cost costs, shrink the investment bank and speed up a restructuring.
"We now have a forward agenda that has been discussed and agreed with Staley," McFarlane said in the statement. "Today's results show another quarter of progress in our core businesses alongside the early effects of some of the changes that we are making."
'Necessary Transformation'
Barclays increased its "core" cost guidance for next year by 400 million pounds to 14.9 billion pounds, largely due to the expense of creating a new ring-fenced U.K. retail bank, protected from losses at the securities unit, as well as a U.S. holding company.
Return on average equity fell to 5.7 percent from 6.1 percent a year earlier. That remains below the cost of equity for U.K. banks, estimated to be about 9 percent by analysts. At the investment bank, the measure jumped to 5.2 percent from 3.1 percent last year, but fell from the 11.5 percent reached in the second-quarter.
In a memo to staff on Wednesday, Staley pledged to complete a "necessary transformation" of the investment bank, which has been plagued by surging compliance costs and a slump in profitability. McFarlane said he's working on a plan for "structural reform" that will be agreed with regulators before being presented to investors.
Investment Bank
At the securities unit, led by Tom King, pretax profit climbed to 317 million pounds from 284 million pounds a year earlier. The unit suffered from "weaker market conditions" in October, the bank said.
"Cost control in the investment bank remains the key challenge," said Sandy Chen, an analyst at Cenkos Securities Plc in London with a hold rating on shares. "Our guess is that credit and macro account for the bulk of that cost base, and also the bulk of the risk-weighted assets consumed by the investment bank. McFarlane and Staley should focus their chopping on these cost and RWA-heavy businesses."
Pretax profit slipped 7.7 percent to 251 million pounds at the Africa business, while Barclaycard had a increase of 40 percent to 508 million pounds. The personal and corporate-banking division reported an increase of 8 percent to 855 million pounds.

Excluding litigation and restructuring costs, operating expenses fell to 3.8 billion pounds in the third-quarter, down from 3.9 billion pounds a year earlier. At the so-called non-core business, risk weighted assets decreased 2 billion pounds to 55 billion pounds from the end of June. The sale of the Portuguese business, which will be completed in the first quarter of 2016, is seen cutting non-core RWAs by a further 1.7 billion pounds.
'Really Bad'
Finance Director Morzaria said he has "renewed confidence" in the bank's ability to cut RWAs at the bad bank to 20 billion pounds by 2017. The unit's heads, John Mahon and Harry Harrison, are doing a good job disposing of the bank's unwanted businesses and loans, he added.
With British regulators preparing to conduct a second round of stress tests, lenders are under pressure to shore up their capital buffers and clean up their balance sheets. At Barclays, the common equity Tier 1 capital ratio, a measure of financial strength, remained at 11.1 percent in the third quarter from the end of June, while the leverage ratio, or assets in relation to capital, increased to 4.2 percent from 4.1 percent.
CET1 was "much lower than our 11.5 percent expectation, and it remains the weakest among the U.K. banks," said Chirantan Barua, an analyst at Sanford C. Bernstein Ltd. in London. "The results look really bad. Their capital position is so weak that there's a significant chance they have to raise capital."
Lloyds said on Wednesday that pretax profit before one-time items dropped to 2 billion pounds in the third quarter from 2.2 billion pounds a year earlier, missing analyst estimates, as it set aside a further provision for wrongly sold PPI. Royal Bank of Scotland Group Plc is scheduled to release earnings on Friday.
Before it's here, it's on the Bloomberg Terminal.
LEARN MORE