Unpopular in South Korea, Abe to Meet Park in Seoul Summit
by and
South Korean, Japanese leaders to hold talks with China's Li

Abe says he's prepared to discuss `difficult' issues with Park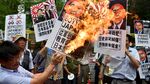 South Korean President Park Geun Hye will host high-profile meetings next week with an Asian leader who is deeply unpopular in her country.
Her guest: Shinzo Abe. The Japanese prime minister will visit Seoul to resume annual trilateral talks with China that had been shelved since 2012 as tensions rose over territory and conflicting views of Japan's past aggression. The trilateral summit is set for Sunday, and the following day Park will host Abe for their first bilateral talks since she took office in February 2013.
"The problems with historical perceptions meant that ties had stagnated in other areas," said Bonji Ohara, a research fellow at the Tokyo Foundation think tank and former naval attache in China. The summit is a "step toward improving relations," he said.
Relieving the lingering mistrust between Japan and its two Northeast Asian neighbors could help accelerate talks on a trilateral trade agreement between the countries that account for a fifth of the global economy. Renewed dialogue could also enable the three governments to coordinate their response to persistent threats from a nuclear-armed North Korea, whose missiles are capable of striking Seoul, Tokyo and Beijing.
Trade Deals
Negotiations on the three-way trade deal began in 2012, just as Japan's territorial disputes with South Korea and China heated up. China is the biggest trading partner for both Japan and South Korea, while Japan is fresh from agreeing a broader trade deal that includes the U.S. and 10 other Pacific nations, but neither of its neighbors.
While ties between Japan and China have thawed since Abe held his first meeting with President Xi Jinping in November last year, Park had until recently insisted that Japan show more "sincerity" over its treatment of Korean women trafficked to its military brothels before and during World War II before any summit could be held. Abe said Wednesday he was willing to discuss such "difficult issues" as well as the economy, security and the environment.
Perhaps to remind Abe of the sensitivity of the issue, two bronze statues -- one of a Chinese girl, one of a Korean -- were unveiled this week in a Seoul park to represent the comfort women across Asia.
U.S. Allies
Any thaw in Japan's relations with South Korea will be warmly received by the U.S., which wants its two wealthy East Asian allies to work together to help balance China's growing assertiveness in the region, and collectively respond to the North Korean threat. The U.S. has more than 75,000 troops based in Japan and South Korea, about half all U.S. forces abroad.
Ties between Japan and South Korea deteriorated in 2012 when Park's predecessor, Lee Myung Bak, visited rocky outcroppings controlled by South Korea but also claimed by Japan. While both countries teach their territorial assertions in schools, South Korea goes as far as including them in its weather forecasts and a large model of the rocks stands prominently near the entrance of the national war memorial in Seoul.
Public Animosity
Animosity toward Japan is fanned by the media, with television shows, films and musicals on the brutality of Japan's 35-year colonial rule on regular release. A 2015 film "Assassination," about a plot to kill a senior Japanese official and a Korean collaborator drew more than 10 million viewers, about a fifth of the South Korean population.
Polls in South Korea show that Abe is as disliked as North Korean leader Kim Jong Un.
Abe too has fueled that resentment. His 2013 visit to a Tokyo shrine seen by many as a symbol of past militarism and his push to allow Japan's military to operate more freely overseas have stoked South Korean fears. A survey published in May, as a series of defense bills were being debated in Japan, found almost 60 percent of South Koreans polled saw Japan as a military threat, compared with 37 percent who cited China as a threat.
"There is unease about the future of Japan," said Park Jung Jin, an associate professor at Tsuda College in Tokyo. "From the South Korean perspective, the Abe administration seems to be aiming to become a major power, including in military terms."
Park said in a written interview with Japanese media published Friday that she wants Japan to settle this year the issue of the surviving so-called "comfort women" who were made to service Japanese troops decades ago. Historians estimate there were anywhere from tens of thousands to hundreds of thousands of victims, many from the Korean peninsula. Park has said only 47 are still alive.
Japan did offer an official government apology to the women in 1993, though that statement and subsequent efforts to address the issue have not satisfied the Park government.
Before it's here, it's on the Bloomberg Terminal.
LEARN MORE