American Pharoah Gets One Last Shot After a Stunning Defeat
by
Triple Crown winner looks to rebound in Breeders' Cup Classic

Headed off to breeding shed after Saturday's $5 million race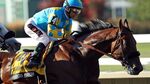 In the five months since you last saw American Pharoah, on that magical, Triple Crown-capping afternoon at Belmont Park, the big horse has had his ups and downs.
First, there was a little jaunt through Kentucky, where he was received in the heart of the horse racing world like a conquering hero. Flown back to his home base in California, there was more pomp and circumstance. And then, after a bit of R&R, it was off to the Jersey shore, where there were, of course, more festivities in front of adoring fans, followed by an absurdly easy victory in the Haskell Stakes. A month later, he was in upstate New York, in the foothills of the Adirondacks. It was there, after parading once again before the masses, that something funny happened: the invincible American Pharoah got beat. And by a middling 16-1 longshot, no less.
Much hand-wringing ensued. At a press conference minutes afterward, the colt's owner, Ahmed Zayat, was visibly shaken. He fretted about how he maybe had pushed Pharoah too hard this year, he talked about his "fiduciary responsibility" as owner of a Triple Crown winner and then he kept making references to his "gut," which apparently was telling him to retire the horse. "You start questioning yourself," Zayat said. "Is the show over? Is it the time?"
With America's richest race, the $5 million Breeders' Cup Classic, looming, though, it was hard to take that retirement talk too seriously. A few days later, a new plan was hatched to target the Classic as Pharoah's final race.
Which brings us to today. Or to tomorrow actually, when the colt will take on eight rivals in the 1 1/4-mile Classic in Lexington, Kentucky.
Now all of this chatter about Pharoah possibly becoming the first Triple Crown winner ever to take the Classic too is, for the most part, silly marketing hype. (The Grand Slam is how they've branded it.) To be clear, none of the 11 other champions even had a chance to accomplish the feat. The last in that group was Affirmed in 1978. That was six years before the Breeders' Cup was created.
Still, it's true, it'd be a heck of a feat, the kind of victory that would cement Pharoah's place in the pantheon of racing's all-time greats.
He'd have to overcome some major obstacles to pull it off. For starters, he'd need to regain that razor-sharp form he displayed throughout the spring and early summer. In that loss a couple months ago, there were telltale signs he wasn't his usual self: the sweat lathered up thick and white on his neck in the moments before he entered the starting gate; the way he labored when challenged early in the race by a horse he'd handled easily in the Kentucky Derby and Belmont Stakes. 
What's more, he'll be facing a caliber of rivals he's never seen before. Triple Crown races are restricted to three-year-olds. The Breeders' Cup Classic is not. The top older horses in the race, Honor Code and Tonalist, are big, strong running machines. Look for them to come charging through the pack late. And that 16-1 spoiler, Keen Ice, is back in here too. Now Pharoah figures to be the lone speedball intent on seizing the lead early -- and that gives him a big tactical advantage -- but my instinct still tells me he won't be sharp enough to repel all of his challengers. (Honor Code's my top pick to upset him.)
Win or lose, Pharoah will be loaded onto a van afterward for a short ride down old Route 60. He will get out at the American headquarters of the Irish breeding powerhouse, Coolmore Stud. There's great anticipation of his arrival. The buzz among the Kentucky hardboots is that he'll be so coveted as a sire that his initial breeding fee could be as high as $200,000. Multiply that by 125 matings or so a year and it adds up quickly.
An official announcement setting the fee is due in coming days. The breeding season starts a couple months later. But first, Pharoah gets one more shot at glory, one more shot at storming out of the gate, running his rivals off their feet and dazzling his legions of fans. And maybe, in the process, he earns himself one last, little victory parade.
(David Papadopoulos, a managing editor at Bloomberg News, has been following thoroughbred racing for more than two decades and was runner-up in 2008 Eclipse Award voting for feature writing on the sport.)
Before it's here, it's on the Bloomberg Terminal.
LEARN MORE