Pfizer, Allergan Enter Talks Toward Record Drugmaker Deal
By , , and
Buying Allergan could see Pfizer split up, move tax address

Companies confirm they're in early `friendly discussions'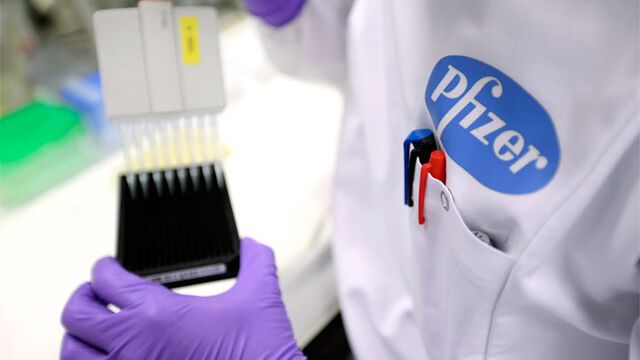 Pfizer Inc. is getting closer to breaking up and moving out.
The largest U.S. drugmaker said it's in "preliminary friendly discussions" about combining with Ireland-domiciled Allergan Plc, which had a market value of $113 billion at Wednesday's close. It's possible no deal will be reached, the companies said in separate statements. While they didn't disclose any financial terms, a combination would probably be the biggest ever in the drug industry.
Buying Allergan, which is incorporated in Dublin and run from New Jersey, would give Pfizer a low-tax legal address abroad and valuable drugs like the Botox anti-wrinkle treatment. It would also help New York-based Pfizer meet its goal of adding scale before splitting up into two new companies -- one focused on older products at the end of their life cycles, and another, faster-growing business of new brand-name drugs.
The resulting bump in Allergan's stock price fell far short of the premium some analysts predicted investors would need to agree to a deal, a sign of both potential regulatory hurdles and American political obstacles to such transactions, called tax inversions. The shares gained 6 percent to $304.38 at the close in New York. Pfizer would need to pay at least $400 a share to win over Allergan's shareholders and management, Shibani Malhotra, an analyst at Nomura Holdings Inc., said in a note to clients.
"Allergan shares have gained significantly in the past few days and are already trading at high levels," said Bill Kavaler, a New York-based managing director at brokerage firm Olivetree Financial. "We're not yet close to a deal, which could take about a year to complete, and it could face some political opposition."
The 2016 U.S. presidential race is under way, and leading candidates from both the Democratic and Republican parties are looking to close avenues that allow U.S. companies to escape the reach of tax collectors. Republican hopefuls were attacking inversions in a televised debate Wednesday evening, even as the first reports were breaking about the Pfizer-Allergan talks.
Tax Inversions
This inversion would be by far the biggest by a U.S. company, after dozens of smaller businesses -- including many drugmakers -- have used deals abroad to exit the U.S.'s 35 percent corporate tax rate.
Purchasing Allergan may help Pfizer meet one of the criteria to clear U.S. tax rules -- that the foreign target be of ample size. That was one of the reasons Pfizer sought to acquire AstraZeneca Plc last year, before eventually withdrawing its proposal.
Pfizer is at a competitive disadvantage by having its tax domicile in the U.S., Chief Executive Officer Ian Read said at a Thursday morning event hosted by the Wall Street Journal, which first reported the talks on Wednesday evening. Foreign companies with a lower tax rate can invest more in research, he said.
Ireland offers tax advantages besides its low 12.5 percent corporate tax rate. The country makes it relatively easy to move profits into zero-tax locales like Bermuda and Grand Cayman. As a result, U.S. companies with big Irish subsidiaries often pay a tax rate in the low single-digits on those units' profits. Ireland is also drafting plans to set just a 6.25 percent rate on profits resulting from patent innovations -- a big benefit to drug companies like Pfizer.

While the two companies had not yet confirmed their discussions at the time Read was speaking on Thursday, he did say that Pfizer could do a merger and then split. Pfizer shares declined 1.9 percent to $34.77 at the close in New York.
The largest ever deal in the drug industry was Pfizer's $116 billion acquisition of Warner-Lambert Co. in 2000, data compiled by Bloomberg show. Pfizer has sought deals in recent years as patents have expired for key drugs, including cholesterol-lowering medicine Lipitor.
Pfizer's Goals
Read has said he is looking for three things in any major takeover. "I expressed a preference for any deal that creates greater shareholder value, which would have to be a combination of, as I said, pipeline, operational synergies, and financial synergies," he said on a conference call Tuesday.
Allergan is one of the few targets that fit Pfizer's aspirations, Credit Suisse analysts wrote in a note to investors Thursday. Recent comments from Pfizer's management on earnings calls have elevated expectations on Pfizer "going bold and trying to complete a tax inversion-based deal," the analysts wrote.

Buying Allergan would give Pfizer medications to add to its specialty drug unit. Pfizer earlier this year bought Hospira Inc. in a transaction valued at about $17 billion. The acquisition of Hospira, which makes generic injectable medications and devices to deliver them, was intended to bolster Pfizer's established drugs business, which includes off-patent medicine with slow growth and strong cash flow. Once that business has been built up into a stand-alone company, Pfizer could spin it off, separating it from the growth-focused unit that contains Pfizer's brand-name drugs, two people familiar with the matter said at the time of the Hospira acquisition.
It also wouldn't be the first time for Pfizer and Allergan to explore a deal. In 2014, Pfizer was said to have approached what is now Allergan about a takeover, Bloomberg News reported. At the time the company -- which then went by the name Actavis -- had a market value of about $64 billion.
Buy and Split
"There are very few deals in the market -- so Pfizer is trying to fill this need for a deal, and once this behemoth is created, then it will probably carve its business out into specialty pharma and generic pharma," said Jayant Singh, director of the health-care practice at Frost & Sullivan in New Delhi.
Allergan may also be an easier target than it was just a few months ago.
While Allergan's stock is up about 12 percent this year, its closing price Wednesday of $287.20 is well below its July peak of about $340. Shares of drugmakers have fallen in the U.S. as pricing practices by the industry have drawn scrutiny from lawmakers and candidates in the presidential elections.
"I do think there has been an adjustment in the price of some of the specialty companies," Read said Tuesday. "I'm not so sure there has been an adjustment in their expectations of what they want to sell the company."
Built by Deals
The argument for Pfizer splitting up will get stronger in 2016, and recent market weakness increases the possibility of an acquisition like Allergan to strengthen its innovative segment, BMO analysts noted.
Allergan is itself the result of an acquisition earlier this year. It was purchased by Actavis, which took Allergan's name and tax address abroad.
Allergan is also slimming down by selling its generic-drug unit to Teva Pharmaceutical Industries Ltd. for $40.5 billion. Sales at Allergan, which has a market capitalization of about $113 billion, have benefited from sales of specialty drugs including Botox and Namenda for Alzheimer's disease.