All-Americas 64-Team Soccer Cup Promises New Riches and Glory
By
Americas Champions League pits clubs from U.S. to Argentina

Obstacles include schedule, travel, money, broadcast partners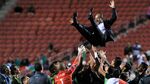 For more than 20 years, European soccer's Champions League has been the most prestigious club competition in global football. Now, a sports rights agency is pitching an equivalent for the Americas, promising new riches to cash-strapped teams and a chance for American clubs to prove themselves on a world stage.
MP & Silva, the London-based promoter, is proposing a 64-team, home-and-away knockout tournament that pits top clubs from across the Western Hemisphere against each other. It has yet to cement any official broadcast partners, but former NFL commissioner Paul Tagliabue has signed on as an adviser.
Part of the sell to South American teams, which already play a packed schedule, is the $440 million that the Americas Champions League is promising. That's peanuts compared with the $1.5 billion Europe's elite event delivers to its teams, but it dwarfs what's on offer in other regional tourneys.
"The U.S. is a huge, rich market with an appetite for soccer," Riccardo Silva, co-founder of the company, said in telephone interview. "So it's a perfect combination for South American clubs to enter this market, and for the U.S. it's perfect situation because they need a top international competition played by their clubs: a win-win situation."
As of now, South American clubs play every year for the Copa Libertadores. With a winner's check of $5.3 million, it pays about the same as the minimum Silva says each participant in the proposed Americas Champions League would earn. Clubs from Central America, the Caribbean and the U.S. currently play for the CONCACAF Championship, which pays no prize money at all.
For a team like 45-time Uruguayan champion Nacional, the prospective payout is dizzying. In spite of its rich history, the club is constrained by Uruguay's population of 3 million and has been forced to sell stars like Luis Suarez and Diego Godin to wealthy European teams. "Imagine you play two games and receive a minimum $5 million," Nacional president Eduardo Ache said. "The answer is straightforward."
Silva said several of the region's other top clubs like the idea, including Corinthians, Brazil's richest team, and Rio de Janeiro-based Fluminense. "The creation of the Americas Champions League is definitively a great idea that will benefit the Americas market," Fluminense President Peter Siemsen said by e-mail.
The competition would have to be largely backed by broadcasters. Silva said the project has generated interest, declining to name specific companies.
The television audience for Major League Soccer on U.S. networks is growing slowly, up 10 percent over the past two years, according to Brad Adgate, director of research at Horizon Media. The finals of the most recent men's and women's World Cups attracted 20 million to 30 million American viewers each.
Adgate cited the growing audience, a thirst for live events among broadcasters and a growing soccer loving ethnic population in the U.S. for the tournament to get the backing of television executives. "This has a strong chance for getting picked up by a network, having it watched and getting a respectable audience," Adgate said.
Still, the plan has a long way to go before it can become reality. Silva has yet to seek the approval of the region's two soccer confederations, which would have to sign off on the tournament. He also needs to find time in a packed calendar: teams play all year, often more than 50 games. Silva said the new competition wouldn't be a replacement for existing events.
Half the participating teams would only play two extra games, and the finalists would face a maximum of 11, including a decider that would played in an "iconic venue" in a city like Rio, New York or Miami, according to Silva.
Scheduling aside, the simple logistics of bringing together such far-flung teams for home and away games must also be considered. Unlike in Europe, where clubs are at most a four-hour flight away, a match-up of the Seattle Sounders and the Buenos Aires-based Boca Juniors, for example, would mean a round trip of almost 14,000 miles for a midweek game in the Americas Champions League before returning for domestic game on the weekend.
FIFpro, a global soccer player union, said it was skeptical about the creation of the new competition, saying that "the current match calendars are already overloaded in some cases and carry injury risk for players." If the tournament happens, the organization would want at least three recovery days between games, one day of acclimatization for every time zone crossed and a maximum of one game per week in the last eight weeks of the season.
Concessions have already been made, said Silva. "Broadcasters initially would have preferred group stages, more matches, but in the end they are convinced also that is a good solution," Silva said of the knockout format.
In any event, it's probably at least two years before teams vie for the title of champion of the Americas. "We could start playing either in 2017 or 2018 -- we are not in a hurry," he said. "Even if it's one year later in 2019 it's not a problem."