Air France-KLM Profit Jumps on Summer Sales, Year-Ago Strike
by
Carrier poised for first positive annual result since 2010

CFO says earnings aided by external fatcors, cuts still vital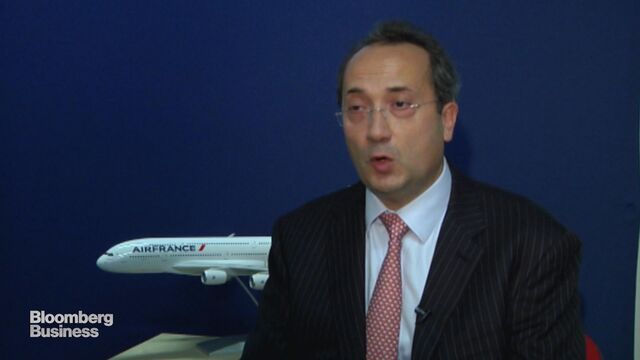 Air France-KLM Group said its third-quarter profit tripled to the highest level in at least a decade, spurred by strong summer sales, lower fuel prices and a lull in industrial action that hurt year-ago figures.
Earnings before interest and tax rose to 898 million euros ($980 million) from 247 million euros in the equivalent period in 2014, when a weeks-long pilot strike wiped 330 million euros from earnings, Europe's biggest carrier said Thursday in a statement. Analysts had predicted a figure of 808 million euros, on average.
With the Air France unit locked in a standoff with unions over plans to increase working hours for the same pay or cut jobs, Chief Financial Officer Pierre Riolacci said external factors aided profit and that the company can't yet take on Persian Gulf carriers led by Emirates and European discounters such as EasyJet Plc.
"Our good performance in the third quarter was essentially linked to favorable conditions," Riolacci said. "So it's inevitable that our competitors will also improve their performances for the quarter. Air France still has a gap in productivity relative to rivals, and that's something we need to eliminate."
Savings Stutter
The pace of savings is also slowing, the company said, with the reduction in unit costs for the full year compared with 2014 now likely to be between 0.5 and 0.7 percent rather than the previously targeted 1 percent to 1.3 percent range.
The shares rose 4.33 percent to 7.033 euros at 9:12 a.m. in Paris.
Management has so far failed to persuade Air France pilots and flight attendants to agree to cost-cutting measures and is now targeting an accord by early 2016. Failing that, Chief Executive Officer Alexandre de Juniac has pledged to pare jobs, routes and planes, following the planned elimination of 1,000 posts in the absence of an earlier agreement.
"The better summer trading does not reduce the strategic challenges," Liberum analyst Gerald Khoo said in a note to investors, adding that the group must reform its "deeply uncompetitive cost base" as competition gets tougher. "We see no quick or easy solutions."
Brazilian Challenge
The Brazilian market is the most difficult for the carrier, with "no sign whatsoever" of a recovery, Riolacci said in a Thursday conference call with journalists. Capacity growth could also begin to weigh on margins, Air France-KLM said, as rivals that favored modest expansion in the summer splurge on adding seats in their winter timetables, with likely increases of at least 6 percent on both short- and long-haul routes. That trend could undermine fares and even lead to a price war in the competition for passengers.
Air France-KLM gave no specific guidance for full-year earnings, though Riolacci said that given nine-month Ebit of 666 million euros, "it's clear" the group is set to post the first positive operating result since 2010 in the absence of a strike or other major issue.
The executive said restructuring in freighters is fully completed at Air France and still proceeding at Martinair, though the cargo market remains sluggish.
Before it's here, it's on the Bloomberg Terminal.
LEARN MORE