Swedish Central Bank Kills Speculation That Rates Have Bottomed
by and
Riksbank governor says -0.35% doesn't mark a floor on rates

Extra quantitative easing, other measures, remain options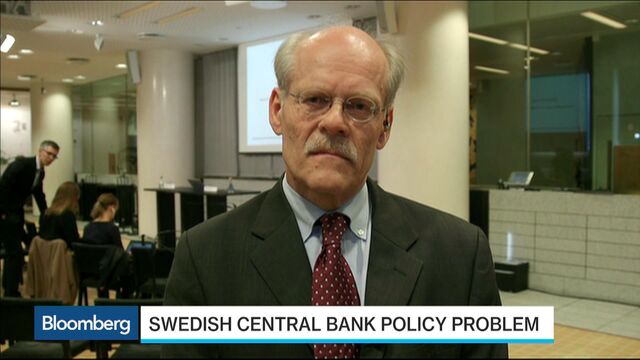 The governor of Sweden's central bank says any speculation that he and his board are running out of ammunition in their monetary policy toolbox is misguided.
Even with the benchmark repo rate at minus 0.35 percent -- the lowest level in the Riksbank's 347-year history -- there's still "more space" for cuts, Governor Stefan Ingves said in an interview on Wednesday.
Since last week's signal from the European Central Bank of yet more stimulus to prop up the euro zone, central bankers outside the single currency bloc have found themselves under intense pressure to protect their markets from the monetary nightmare that looms.
In Sweden, Ingves says policy makers are prepared.
"We do have more space, I wouldn't pin down a floor presently, so we can go below minus 0.35 if we need to do that," he said. "One needs to be mindful of the fact that I'm not talking about a negative rate only."
The Riksbank on Wednesday expanded its quantitative easing program for a fourth time since February and expects to have bought 200 billion kronor ($23.7 billion) in bonds by the end of June 2016. Capital Economics estimates that will be equivalent to about 5 percent of gross domestic product and 30 percent of Sweden's outstanding stock of debt.
(Click here for more on the Riksbank's latest rate meeting.)
"I don't worry about running out of assets," Ingves said. "So far the QE program we have executed in the course of this year has, as far as I can judge, worked really well."
Though Sweden's economic growth prospects generally support a stronger currency, Ingves said any appreciation needs to be a "very gradual process."
Over the past six months, Sweden's krona has appreciated more than 6 percent, according to a Bloomberg correlation-weighted index of 10 currencies. That compares with a more-than 6 percent decline in the krone of neighboring Norway. After initially weakening, the krona traded 0.5 percent higher against the euro on Wednesday as of 1:09 p.m. in Stockholm. It was up 0.7 percent against the dollar.
The Riksbank has failed for years to bring inflation close to the bank's 2 percent target. Underlying price growth has been below that level since the beginning of 2011 as a strong krona drives down import prices.
Given the heavy stimulus signals from the ECB, "we have to be vigilant when it comes to what happens to the krona," Ingves said. The expanded QE program will help the bank achieve its goals, he said.
"If the exchange rate were to appreciate too quickly then that would mean it would be harder for us to get inflation up to around 2 percent," Ingves said. "Given that inflation has been low for quite a while we actually need to get inflation up to 2 percent and then what happens to the exchange rate really matters."
Before it's here, it's on the Bloomberg Terminal.
LEARN MORE