U.K. Regulator Approves BT's Bid for Wireless Carrier EE
by
Deal won't have significant effect on competition, CMA says

CMA to publish final report on $19.1 billion bid by Jan. 18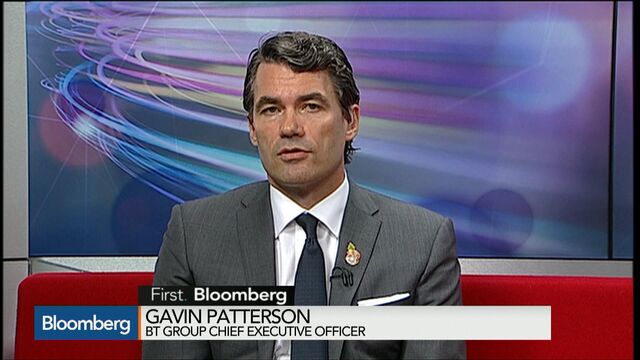 The U.K.'s antitrust regulator gave provisional approval to BT Group Plc's bid to acquire Deutsche Telekom AG and Orange SA's British wireless venture EE Ltd., saying the deal won't weaken competition.
BT's agreement to acquire the company for 12.5 billion pounds ($19.1 billion) won't cause problems because the two businesses operate in largely separate markets, the Competition and Markets Authority said in a statement Wednesday. BT's focus on supplying phone, broadband and pay television services have limited overlap with EE's mobile communication business, the regulator said.
If the transaction is completed, London-based BT will control the biggest high-speed broadband network as well as the largest wireless operator in the U.K., letting it sell packages of mobile, TV, home phone and Internet services. The CMA didn't ask for any asset sales or other remedies as part of the approval. BT's shares climbed 4 percent to 470 pence by 8:50 a.m. in London.
"The retail mobile market in the U.K., with four main mobile providers and a substantial number of smaller operators, is competitive," John Wotton, the head of the CMA inquiry said in the statement. "By the same token, it is unlikely that the merger will have a significant effect on competition in the retail broadband market, where EE is only a minor player."
Other Deals
The deal is part of wider moves toward consolidation in the European telecommunications sector. CK Hutchison Holdings Ltd.'s plan to acquire Telefonica SA's O2 unit in the U.K. is currently being reviewed by the European Union.
Competitors, including TalkTalk Telecom Group Plc, said they were "concerned" by the regulator's decision. The London-based company, which has been dealing with the fallout from a cyber attack on its website, said the CMA was divided in its findings on the wholesale mobile market and it would study the document before delivering a response for the watchdog's final report.
BT and EE's move to seek an expedited investigation from the CMA turned out well, said Becket McGrath, a partner at law firm Cooley LLP in London.
"They recognized this needed a good look and that clearly proves to have been a good strategy because it's heading towards unconditional clearance," McGrath said. The announcement "shows the benefits of being able to take this approach in the U.K."
The CMA will publish its final report on the deal by Jan. 18.
Before it's here, it's on the Bloomberg Terminal.
LEARN MORE