Photographer: Uriel Sinai/Getty Images
Turkey Opposition Preps for Power Share With Party It Abhors
by and
Country votes Nov. 1 after June election produced no majority

Opposition economics chief criticizes lack of transparency
To opposition deputy chief Selin Sayek-Boke, Turkey's current leaders run a "vulgar, oppressive, statist economy" that isn't transparent about spending, fails to follow through on promised reforms and imposes the wrong kind of taxes.

And her party would be happy to work with them should Nov. 1 elections deliver another hung parliament, said Sayek-Boke, who's in charge of economic policy for the Republican People's Party.
"There has to be a truce within the country," said the Duke University-educated economics professor in an Oct. 13 interview. "There's such polarization that we've lost all common ground when it comes to other interests. But economic interest is a great common ground."
Turkey is heading for its second parliamentary elections in five months after the AK party lost its majority in an inconclusive June vote, ending 13 years of solo rule by the party President Recep Tayyip Erdogan founded. After 10 days of coalition talks between the opposition and the AKP after the last election, the groups were unable to forge a deal.
Even though politicians have spent the intervening months trading recriminations as a series of bomb attacks in major cities killed hundreds of people, polls show that voter intention is little changed. That suggests another unclear outcome in the leadership of the Middle East's largest economy.
On Tuesday Prime Minister Ahmet Davutoglu indicated the AKP is prepared to form a coalition this time if his party doesn't get the majority he says he expects. The same day Kemal Kilicdaroglu, the head of Sayek-Boke's CHP, said it's incumbent on politicians to work together on a solution if no single party wins.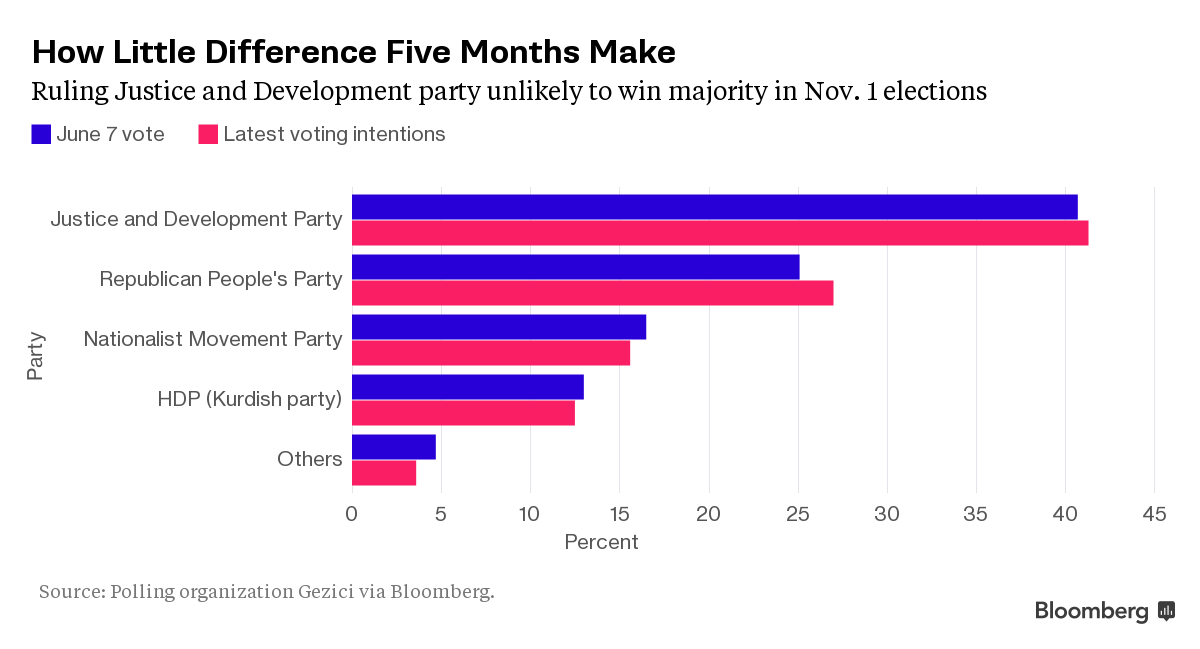 Sayek-Boke gives the governing party credit for maintaining fiscal discipline. Public debt has more than halved as a percentage of gross domestic product over the last decade. She's less complimentary about the transparency of those accounts. For the last few years full budget audits haven't been sent to parliament for review because of an impasse at the Court of Accounts, the national auditor. There's also been a rise in off-budget items in the last few years, she says.
Yet the CHP, the largest opposition bloc, has backed away from confrontation. After internal debate, the party recently decided against challenging the government about budget accountability through the constitutional courts. Instead, it proposes creating an accounts commission within parliament, chaired by an opposition politician.
Tax Inefficiency
Sayek-Boke, who's published widely on foreign direct investment, said she's as concerned with revenue as she is with expenditure. She argues that Turkey's reliance on indirect taxation -- two-thirds of tax revenue comes from levies on goods and services -- fuels public apathy about economic policy since people don't see the taxes they are paying.
The 43-year-old economist worked at the International Monetary Fund, the World Bank and Georgetown University's Public Policy Institute before chairing the economics faculty at Ankara's Bilkent University. She left that post to join the CHP a year ago and was elected in June. In a coalition government, she could be part of a "very strong" economy team that markets would consider a "best case scenario," Nomura International's Tim Ash said in an Oct. 20 note.
Her return to Turkey after a decade in the U.S. coincided with now-President Recep Tayyip Erdogan's first year as prime minister, in 2003. That means she's witnessed the full lifespan of rule by the AKP. 
Reform Agenda
"First you have the implementation of the IMF reform agenda," she said in Istanbul, on her way to give a speech in Cannakale, near the ruins of the ancient city of Troy. "From 2008 to 2013 you have a lack of any agenda. 2013 has been a significant break because now it's become a vulgar, oppressive, statist economy."
The Finance Ministry declined to comment. Ali Babacan, who headed the Treasury until June 7 elections, said in televised comments Tuesday that the economy's underpinnings are secure.
Sayek-Boke says the AKP is borrowing from her party's June economic platform. In a comparison of the CHP and AKP's policy proposals, GlobalSource economist Atilla Yesilada says structural reform is the only area where the two biggest parties overlap. "Full speed ahead," is how he describes both views.
In the absence of a win that pollsters suggest will almost certainly elude the CHP, Sayek-Boke says her party's determination to enter coalition remains unchanged: "We'll work with anyone who does their job properly."
"My disappointment with the current administration is that they speak the right language most of the time, but they're in a position to implement, not just speak," she said.
Before it's here, it's on the Bloomberg Terminal.
LEARN MORE