Travelers Are Taking No-Frills Cruises on Ocean Freighters
With business weak, cargo vessels are happy to carry tourists, too.
By and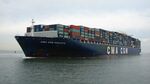 In recent years, big cruise operators such as Carnival, Royal Caribbean, and Star Cruises have spent heavily on soaring atriums, sushi bars, cabaret shows, and on-deck water slides to woo vacationers. Don't tell that to John McGuffick, who's spent months at a time at sea on cargo vessels—happily ensconced in quarters more suited to a Trappist monk than a Caribbean cruiser.
"The food can be pretty ordinary, and you have to be prepared to go with the flow," says the 72-year-old retired farmer from Australia whose 10 trips via ocean freighter have taken him to dozens of ports across Asia, Europe, and North America. His personal maritime endurance record: 110 days nonstop from Dunkirk, in northern France, to Singapore. Explains McGuffick: "I like the solitude."

Shipping companies like the dollars passengers such as McGuffick can bring aboard. In a slowing global economy, freight prices have fallen so far that hauling a person from Shanghai to Rotterdam brings in at least 10 times more revenue than a 20-foot container full of flat-packed furniture.
It's not luxurious and not exactly cheap: About $115 a day secures travelers a bed and three meals on some of the largest vessels ever built. The handful of paying passengers—ships typically take no more than a dozen at a time—dine with the crew, have the run of most of the ship, and can chat up the captain on the bridge or engineers below deck. Forget about the vast housekeeping staffs cruise lines are known for. Freighter cabins are serviced once a week, and passengers have to wash their own clothes. Rather than poolside bars, there's usually a modest supply of alcoholic drinks paid for via an honor system. While Internet access is limited, Ping-Pong tables, dartboards, a selection of CDs and DVDs, and books in a variety of languages help passengers pass the time.

Despite the meager comforts, there's far more demand than marine freight companies can meet, says Julie Richards, who arranges 200 to 300 trips a year at Freighter Expeditions in Sydney. Passengers need to book months in advance on the most popular routes, between China and Europe, she says. "I get 10 to 20 e-mails a day, and three-quarters of them I can't help," she says, citing a dearth of passenger-carrying cargo ships. "It's either people who haven't started a job or it's people who've retired."
Global trade is increasing at only half the average annual pace of the past 20 years. That's bad news for a worldwide fleet of 50,000 merchant ships that carry most of the planet's traded goods. It's good news for travelers, though, since it makes sense for the cargo ships to fill empty quarters with paying passengers. "It's worth renting them out, particularly in times of low charter and freight rates," says Ilka Bueltmann, passage department chief at German shipping company Rickmers Group, which takes passengers on seven of its freighters.

 Hamburg Sued Group offers berths on iron ore carriers between Brazil and Europe. CMA CGM Group, the world's No. 3 container shipping line, offers trips on the massive freighters—longer than four soccer fields—it shuttles between Southampton, England, and Ningbo, south of Shanghai on the East China Sea.
Passengers joining that voyage at Port Klang, near Kuala Lumpur, pay about A$2,500 ($1,800) for the 14-day leg to the Chinese port, including meals and port fees, Richards says. That will give them a double or twin bed in an air-conditioned, carpeted cabin, with their own bathroom, wardrobe, chest, writing table, chair, and window. The cost is $239 more than an ocean-view cabin on a 12-day Caribbean cruise on the 2,974-guest Carnival Liberty next March—but doesn't include anything like the Liberty's formal-night lobster dinner, seven bars, comedy club, or disco.
While a berth on the cargo vessel may be up to 10 floors above the sea, panoramic views aren't guaranteed. That window could be blocked by shipping containers—15,000 of them. "It's a working ship," says Richards. "That's what people have got to realize."
—With Nicholas Brautlecht
The bottom line: Cargo ships can charge much more per day to carry a vacationer than a fully loaded 20-foot shipping container of freight.
Before it's here, it's on the Bloomberg Terminal.
LEARN MORE