Thailand Swears Off Subsidies in Bid to Cut Crop Surpluses
by
New policies promote higher value crops, cost-cutting

Farmers have inadequate water to plant dry-season crops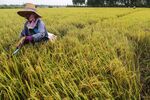 Thailand, the world's largest rice exporter, vowed not to reintroduce subsidies in the face of a worsening drought as it pushes ahead with plans to eliminate crop surpluses.
Restoring market balance and improving farm income are key planks of Prime Minister Prayuth Chan-Ocha's policy as the government seeks to restructure the farm sector and to eliminate the stockpile of 13 million metric tons of rice built up by former Prime Minister Yingluck Shinawatra at a cost of 885 billion baht ($25 billion).
"This government will definitely not interfere with product prices," Chatchai Sarikulya, Minister of Agriculture and Cooperatives, said last week in an interview in Bangkok. "We want prices to move in line with the market mechanism. We focus more on strengthening farmers."
Water levels in the four main reservoirs in Thailand's central provinces dropped to the lowest since 1993 amid an El Nino-induced drought. The central region normally accounts for nearly half the nation's rice output during the dry season that runs from November to April.
"We're worried about this intensifying situation," Chatchai said. "There's risk that drought could damage rice crops. The government hopes farmers will not plant rice during the dry season as we have warned them in advance about inadequate water supply."
Price Plunge
Chatchai wants to discourage planting of crops such as rice in favor of higher value products to help increase farm income and reduce overproduction. Last month, the benchmark domestic price of Thai rice fell to $350 a ton, the lowest level since 2007, according to the Thai Rice Exporters Association.
Thai rice production exceeded local demand by about 50 percent last year and rubber output exceeded consumption seven-fold, according to government data.
Output of rough rice may decline to as low as 22.98 million tons in 2015-16, the least since 1996-97, assuming there is no planting during the dry season starting in November, Thailand's Office of Agricultural Economics said in September. That's down 30 percent from 32.62 million tons a year earlier. Production may total 24.69 million tons if 20 percent of rice is planted in the dry season, the office estimated.
El Nino is changing weather across the globe, baking parts of Asia and bringing torrential rains to parts of South America. It threatens to parch fields in Asia and may disrupt harvests worldwide.
The government wants farmers to switch to high-value farm products that meet market demand and reduce surpluses through a voluntary crop zoning policy, that would match crops to soil conditions and water supply. The ministry is setting up 882 centers nationwide to educate farmers on zoning, farming technique and marketing.
Before it's here, it's on the Bloomberg Terminal.
LEARN MORE