The Pentagon Is Taking Bids for the Digital Future of Defense Contracting
by
Cyber Command plans to award work valued at up to $460 million

Cybersecurity spending rises as other budgets decline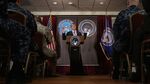 The future of war-fighting won't be the only thing on display when U.S. Defense Secretary Ashton Carter travels Wednesday to Fort Meade for a briefing at Cyber Command.
The digital future of defense contracting also will be evident.
Bids are due Dec. 1 on a contract valued at as much as $460 million over five years to support the command, which opened in 2010 at the 5,000-acre Army base in Maryland that's also home to the National Security Agency. Major defense contractors such as Lockheed Martin Corp., Raytheon Co. and General Dynamics Corp. -- traditionally known for fighter jets, missiles and other hardware -- are expected to compete for work accomplished mostly in front of a computer screen.
"As a defense company, we want to be in the area of developing solutions," said William Leigher, a retired Navy rear admiral and director of government cyber solutions for Raytheon. "Everyone is thinking pretty hard right now about what these forces need."
Companies such as Raytheon anticipate that Cyber Command will be a hub of contracting activity during the next few years as it creates teams to defend defense networks and be at the ready to assist other U.S. agencies in protecting private critical networks from hackers.
Offset Declines
That work represents a significant opportunity to offset spending declines elsewhere, such as Afghanistan, said Brian Friel, a senior contracts analyst at Bloomberg Government.
U.S. spending on all unclassified contracts has fallen from $521 billion in fiscal year 2012 to $447 billion in fiscal 2014, according to a Bloomberg Government analysis of the most recent data available. Over the same period, unclassified cybersecurity contract spending rose to $5.2 billion from $3.8 billion, according to the analysis. The total value of cybersecurity contracting is much higher, as most work for the military and intelligence agencies is classified.
"Demand is going to continue," said Deon Viergutz, vice president of cyber solutions for Lockheed Martin Information Systems & Global Solutions. Speed is essential when it comes to responding to hacking attacks, meaning agencies will need contractors like Lockheed they trust and that can respond quickly to work orders, Viergutz said.
"Cyber is in everything we do," he said. "We're looking at opportunities where we're already providing capability to our customers from a platform and system perspective."
Mission Force
The Defense Department is in the midst of building a Cyber Mission Force with 133 teams and about 6,200 military, civilian and contractor personnel. The force is expected to be fully operational by 2018, but teams are being employed as they're built, according to Cyber Command.
The teams are being designed to defend defense networks, support combatant commands and, if necessary, protect the U.S. "and its interests against cyberattacks of significant consequence," according to a statement from the command.
The contract will allow work orders to be issued as needed, providing the agility needed to respond to hacking threats and to carry out operations, said Nadia Short, vice president and general manager of the cyber systems line of business with General Dynamics Mission Systems.
"Development cycles don't take a year now; they take weeks or months," Short said. "You do need to stay ahead of the bow wave here. As we've tried to make our world more simple, we've actually made it more complex."
Raytheon Investment
Spending on cybersecurity will remain high in the near future because requirements are being "baked into" almost every contract, Short said.
Raytheon, for its part, has invested more than $3.5 billion in developing cybersecurity capabilities and products, including through the acquisition of other companies such as Foreground Security this month and Blackbird Technologies Inc. last year, according to the company.
The Homeland Security Department last month awarded Raytheon a contract valued at as much as $1 billion to protect agencies from hackers. For example, the department's breach detection and prevention system, known as Einstein, is being upgraded to help prevent massive breaches like the one at the Office of Personnel Management that compromised data on 21.5 million individuals.
Market Share
Northrop Grumman Corp., General Dynamics, Lockheed and Raytheon have seen the value of their U.S. cybersecurity work expand since 2012, according to Bloomberg Government. Northrop tops the list, being awarded $430.4 million in unclassified U.S. cybersecurity work in fiscal 2014 compared with $159.4 million in 2012.
General Dynamics' work rose to $313.7 million from $194.6 million during the same period, while Lockheed's increased to $254.1 million from $75.9 million. The companies couldn't verify the numbers.
Short, of General Dynamics, said the figures seem "woefully low."
"It's billions of dollars," she said. "From a business perspective, that's something you pay attention to."
Before it's here, it's on the Bloomberg Terminal.
LEARN MORE