Statoil Deepens Spending Cuts as Profit Tumbles on Oil Slump
by
Investments cut by $1 billion to $16.5 billion in 2015

CEO says keeps `very strong' commitment to dividend policy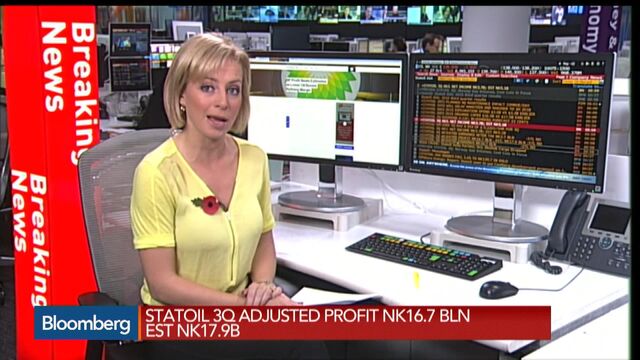 Statoil ASA, Norway's biggest oil company, stepped up cuts in investments and delayed projects, renewing its commitment to shield dividends after third-quarter earnings missed analyst estimates amid a collapse in crude prices. 
Statoil cut planned investments in 2015 by $1 billion to $16.5 billion and delayed the start of production at its Aasta Hansteen and Mariner fields to the second half of 2018 from 2017, the Stavanger-based company said Wednesday in its quarterly earnings report. Statoil has a "very strong commitment" to its dividend policy, under which it maintained payouts this year, said Chief Executive Officer Eldar Saetre.
"Dividends is something that doesn't go up and down with oil prices," he said in an interview in Oslo following a presentation. He stopped short of indicating the level of payouts from the fourth quarter, saying the company would address it in a strategy update in February.
Statoil, 67 percent owned by the Norwegian government, is cutting investments and costs alongside competitors such as Royal Dutch Shell Plc and BP Plc. The world's biggest oil companies are seeking to shield shareholder payouts after oil prices fell as low as $42 a barrel in August, down 63 percent from 14 months earlier. BP reported profit on Tuesday that beat analyst estimates thanks to refining results as it deepened cost cuts.
Earnings Slump
Statoil is cutting capital expenditure from $20 billion in 2014. The company said it will pay a dividend of 22 cents a share for the third quarter, in line with its July forecast.
Statoil fell as much as 3.3 percent in Oslo trading, the most in almost three weeks, after adjusted net income, which excludes financial and other items, fell 60 percent to 3.7 billion kroner ($436 million), missing a 5.1 billion-krone estimate of analysts surveyed by Bloomberg. The company reported a net loss of 2.8 billion kroner after booking net impairment charges of 4.8 billion kroner.
"Statoil reported weak third-quarter results," Teodor Sveen Nilsen, an analyst at Swedbank AB, said in a note to clients. "We guess the market will like" the spending cuts and an increase in the production forecast, but those changes are most likely already included in the share price, he said.
Production Outlook
Statoil's production rose to 1.91 million barrels of oil equivalent in the third quarter from 1.83 million barrels a year earlier. That compared with the 1.9 million barrel-a-day estimate in a survey of 31 analysts conducted by Statoil. The company expects production growth in 2015 to exceed 3 percent from a 2014 level adjusted for asset sales, compared with a previous forecast of about 2 percent. 
A reduction in maintenance to save costs has boosted oil and gas production for Norway as a whole this year.
Adjusted pretax earnings for the company's marketing, midstream and processing unit rose 39 percent to 6 billion kroner in the quarter. Lower oil prices have made refining more profitable. At the same time, Statoil's international business unit reported an adjusted loss of 4.2 billion kroner, after a 3.5 billion-krone profit a year earlier.
Statoil expects oil prices to remain low "well into 2016," although they seem to have found a "floor" at the current level, Saetre said in the interview.
Before it's here, it's on the Bloomberg Terminal.
LEARN MORE