Spoofing Trial Jury Told Trading Algorithms Guided by Coscia
by and
Computer programmer testifies about developing Coscia's plan

Trial is first under Dodd-Frank's ban on trader spoofing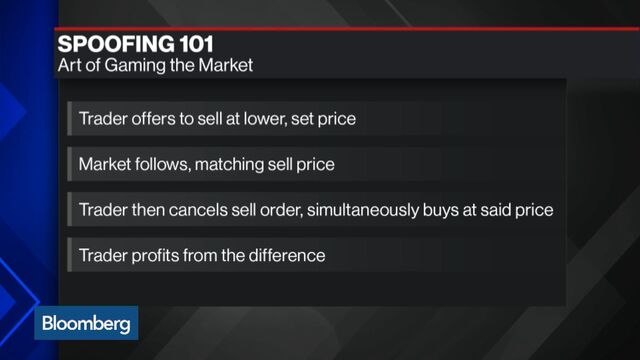 A former computer programmer for a high-speed trading firm told jurors he received detailed guidance on developing trading algorithms that prosecutors say led to illegal spoofing by principal Michael Coscia.
Jeremiah Park, called by prosecutors as a witness in the first trial over spoofing, said he created algorithms in 2011 with a logic and strategy that came from Coscia. It included the creation of "quote" orders "used to pump market," according to Park's handwritten notes that were shown to the jury. The quote orders were to stimulate the market to get a reaction, Park said.
Coscia, who ran Panther Energy Trading LLC, is accused by prosecutors of running a "bait and switch" scheme by putting big orders on one side of the market to move prices and then filling smaller orders on the other side. That allowed him to rake in $1.4 million in illegal profits over three months, according to prosecutors.
Park, who said he worked at Panther Energy from 2007 to 2013, said Coscia wanted to automate trading strategies that he was doing manually. Park said he designed the programs in 2011.
The programmer is scheduled Wednesday to face questioning by Coscia's lawyer, Steven Peikin. Coscia "entered every order with the intent to trade the order," Peikin told jurors in his opening statement Monday.
Coscia, 53, was indicted last year and charged with six counts of commodities fraud and six of spoofing. He claims he had no intent to defraud anyone and didn't violate the law. There are no rules on the exchanges prohibiting the placement of orders for different quantities of futures contracts on both sides of the market, Coscia contends.
The trial comes after a year of U.S. law enforcement and regulatory actions against traders who authorities allege systematically place orders they don't intend to execute to trick the market into thinking there's demand that doesn't actually exist. It's the first time jurors are being asked to apply a provision in 2010's Dodd-Frank Act that singles out spoofing as a form of illegal market manipulation.
If convicted of spoofing, Coscia could face as long as 10 years in prison, and a fine of as much as $1 million for each count. Each commodities-fraud charge carries a maximum sentence of 25 years in prison and a fine of as much as $250,000.
Earlier on Tuesday, two witnesses, one from ICE Futures Europe and another from CME Group Inc., testified that Coscia's trading patterns showed high instances of canceling large orders.
The case is U.S. v. Coscia, 14-cr-00551, U.S. District Court, Northern District of Illinois (Chicago).
Before it's here, it's on the Bloomberg Terminal.
LEARN MORE