Snyder's-Lance Investors Balk at Purchase of Diamond Foods
by
Snack company joins growing list of acquirers facing backlash

Snyder's shares suffer worst decline in more than four years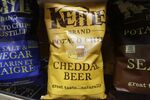 Snyder's-Lance Inc. shareholders aren't happy about its plan to buy Diamond Foods Inc., part of a growing investor backlash against acquisitions.
After the company announced the $1.27 billion buyout this morning, Snyder's shares tumbled 7.8 percent to close at $33.25 in New York. The drop represents the worst one-day decline in almost two years, underscoring concerns that the deal will add to Snyder's debt without giving it a surefire growth engine.
"Diamond's business has been uninspired for several years," said Asit Sharma, an analyst at the Motley Fool. "Even though the brand pieces may fit together, it's hard to feel energized about this deal if you're a Snyder's-Lance shareholder."
Snyder's joins a lengthening roster of acquirers that have seen their stocks tumble after disclosing deals. Japan Tobacco Inc., Deutsche Wohnen AG and Energy Transfer Equity LP all suffered sharp declines in the wake of transactions. That's a reversal from the trend in recent years, where investors have bid up shares of both buyers and sellers.
Negative Reaction
The proportion of deals with a positive one-day stock price reaction for the buyer declined to 59.5 percent through the end of September, the lowest level since 2011, according to data compiled by Deutsche Bank AG. While the majority of investors are still welcoming dealmaking, the declining trend may indicate that shareholders' support for takeovers is abating.
Diamond Foods brings a stable of well-known brands, including Diamond nuts, Kettle potato chips and Pop Secret popcorn, but the company's sales have stagnated. That has investors wondering if the deal is worth it. Snyder's, which makes Cape Cod chips and Snyder's of Hanover pretzels, will assume about $640 million in debt from Diamond, bringing the total transaction value to about $1.9 billion. The buyer only has a market value of about $2.3 billion itself.
Diamond Foods has had a difficult history in recent years. It paid $5 million last year to settle an accounting probe that had weighed on results. In 2012, the company saw its bid to buy Pringles from Procter & Gamble Co. derailed after it was forced to restate earnings, leading to the ouster of its chief executive officer. Diamond, based in San Francisco, also has posted losses three of the past four years.
Supermarket Clout
Snyder's, based in Charlotte, North Carolina, is the product of the 2010 merger of two snack makers: Lance Inc. and Snyder's of Hanover. With the Diamond deal, the company is looking to strengthen its store-delivery network in the U.S., as well as expand in the U.K. and across Europe. Snyder's expects to wring annual cost savings of $75 million from the transaction, which it says will boost earnings per share in 2016.
Gaining more influence with supermarkets is a key to the takeover, something that goes beyond the individual brands involved, according to Ken Shea, an analyst at Bloomberg Intelligence.
"If you want pricing power, you have to have more clout with retailers," he said. "That's one of the benefits of this deal."
Before it's here, it's on the Bloomberg Terminal.
LEARN MORE