Saudi September Foreign Reserves Drop to Near Three-Year Low
by
Investments in foreign securities tumble $23 Billion

Authorities planning spending cuts to counter oil slump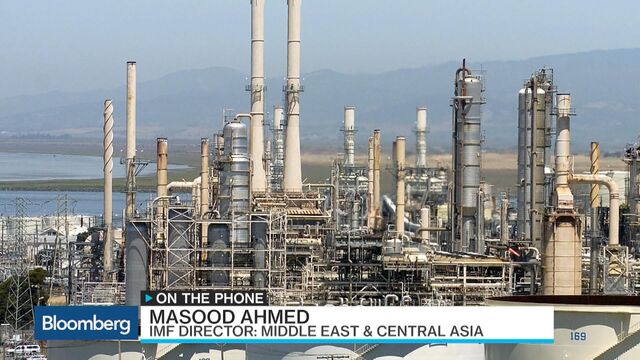 Saudi Arabia's net foreign assets dropped for the eighth month in September as the plunge in oil prices prompt the government to draw down on the financial reserves it accumulated over the past decade.
Net foreign assets declined $7.7 billion to $646.9 billion, the lowest level since November 2012, the Saudi Arabian Monetary Agency said in its monthly report. The central bank's investments in foreign securities plunged $23 billion, the data show, taking the drop since February to more than $90 billion. Bank lending to private businesses grew 7.1 percent, the slowest pace since April 2011, the data show.
The biggest Arab economy may run out of financial assets needed to support spending within five years if the government maintains current policies, the International Monetary Fund said this month. Authorities are already considering spending cuts and the government is selling domestic bonds for the first time since 2007 to shore up public finances.
"It's an even larger drop than I'd anticipated, and the sharp fall in foreign security holdings is particularly striking," Simon Williams, chief economist for central and eastern Europe, the Middle East and North Africa at HSBC Holdings Plc, said by e-mail. The size of reserves leaves the kingdom in a "very comfortable position, but with oil prices so low and the deficit so large, those savings will continue to decline at a rapid rate through this year, next and beyond," he said.
Budget Deficit
The IMF expects Saudi's budget deficit to rise to more than 20 percent of gross domestic product this year after King Salman announced one-time bonuses for public-sector workers following his accession to the throne in January. The deficit is expected to be 19.4 percent in 2016.
Saudi Arabia accumulated hundreds of billions of dollars in the past decade to help the economy absorb the shock of falling prices. The kingdom's debt as a percentage of gross domestic product fell to less than 2 percent in 2014, the lowest in the world.
"The drawdown of reserves is still taking place but its pace is slowing compared to a few months ago," John Sfakianakis, a Riyadh-based Middle East director at Ashmore Group Plc, said "The bond issuance program continues to offer an alternative source of revenue."
The benchmark Tadawul All Share Index for stocks rose 0.3 percent at the close in Riyadh before the data was released. The index has fallen 30 percent over the past year, compared with a 13 percent-drop in the MSCI Emerging Markets Index.
Before it's here, it's on the Bloomberg Terminal.
LEARN MORE