politics
Ryan Backs Budget Deal With White House Before Nomination
By , , and
Congressman says spending plan helps relieve uncertainty

House Republicans set to nominate Ryan as speaker Wednesday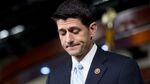 Representative Paul Ryan, set to become U.S. House speaker this week, said he will support the budget agreement reached with the White House in the face of opposition by hardline fellow Republicans.
"What I've heard from members over the last two weeks is a desire to wipe the slate clean, put in place a process that builds trust, and start focusing on big ideas," Ryan, a Wisconsin Republican and chairman of the Ways and Means Committee, said in a statement Wednesday. "What has been produced will go a long way toward relieving the uncertainty hanging over us, and that's why I intend to support it."
Ryan called on lawmakers to "turn the page on the last few years and get to work on a bold agenda that we can take to the American people." The vote on the budget is set to begin at about 5 p.m. Wednesday, a House Republican aide said.
President Barack Obama and top lawmakers from both parties this week reached the budget agreement that would avert a U.S. debt default and reduce chances of a government shutdown. "It's going to pass with a bipartisan majority, and I'll be really happy," House Speaker John Boehner, who is set to give up his gavel Thursday to Ryan, told reporters Tuesday.
The House Freedom Caucus, a group of about three-dozen hard-line Republicans whose opposition drove Boehner to resign, said its members will vote against the budget deal. Boehner plans to use Democratic support to bypass those lawmakers' opposition.
Not Like Caesar
House Republicans are set to nominate Ryan for speaker Wednesday, a day before the full House is set to vote. The other candidate for the job is Daniel Webster of Florida.
Ryan told fellow Republicans during a closed-door morning meeting that he doesn't plan to behave like Caesar and call all the shots, said Matt Salmon of Arizona, a Freedom Caucus member. He also promised to allow votes on bills that may not be certain to pass, said Salmon, who said he plans to vote for Ryan for speaker and predicted that fewer than 15 Republicans would vote against him.
The budget agreement would extend U.S. borrowing authority until March 2017 and prevent a default as soon as next week. It would include a two-year deal on defense and non-defense spending levels, with details to be worked out later before current funds expire Dec. 11. Spending caps would be increased by $80 billion and paid for with later-year savings and revenue.
The Freedom Caucus, whose support Ryan sought before he agreed to run for speaker, in a statement Wednesday called the agreement a "fiscal monstrosity" and "an affront to open, accountable and limited government."
'Regular Order'
Still, caucus member Dave Brat, a Virginia Republican who unseated Majority Leader Eric Cantor in a primary election last year, said Tuesday that Ryan's vote on the budget deal wouldn't be a litmus test for his support in the speaker's election.
Brat said he wants assurances from Ryan that he would end "the complete absence of regular order" that led to "five people just determining the budget for the United States of America."
Freedom Caucus member Mo Brooks of Alabama called the accord "financially irresponsible" because it would increase spending. Two conservative groups, Club for Growth and Heritage Action, announced their opposition in a joint statement that called the agreement a "zombie budget deal."
Ryan said, "As with any budget agreement, this one has some good, some bad, and some ugly." He also criticized the way the accord was reached in private meetings between congressional negotiators and the Obama administration.
Process 'Stinks'
"If I'm elected speaker, we will begin a conversation about how to approach these big issues -- as a team -- long before we reach these kinds of deadlines. We simply can't keep doing business this way," Ryan said. A day earlier he told reporters, "I think this process stinks."
House Appropriations Chairman Hal Rogers of Kentucky said his panel would work "to ensure the appropriations process is complete ahead of the Dec. 11 deadline, so that we can avoid any more delays or 'shutdown showdowns.'"
The agreement gives Obama almost 90 percent of the additional money for domestic programs he asked for the federal budget he submitted in February and lifts the spending limits that the administration contended were hindering the economy.
If the deal holds, Obama also would be freed of protracted fiscal and debt ceiling battles with congressional Republicans for the remainder of his term.
The agreement "locks in two years of funding for budgets that finally free us from this cycle of shutdown threats and last-minute patchwork fixes," Obama told a meeting of police chiefs in Chicago Tuesday. "That's good news for everybody."
The agreement was backed by Senate Minority Leader Harry Reid of Nevada and House Minority Leader Nancy Pelosi of California. Support from at least 30 House Republicans would be needed to pass the measure, if all 188 Democrats supported it.
Leaders made some changes late Tuesday night to close a $14 billion shortfall in the plan that was identified by the Congressional Budget Office. They included revisions in State Department war funding, premiums for the Pension Benefit Guaranty Corp. and company contributions to retirement accounts.
The two-year budget accord lifts separate caps on defense and non-defense spending in equal amounts in fiscal years 2016 and 2017. For 2016, the caps are lifted by $25 billion in each category and in 2017 the caps are lifted by $15 billion.
White House officials described Obama as far more active in the negotiations than he was during 2013 budget talks. Obama began calling congressional leaders from both parties in early September.
"Unlike in previous budget agreements, this was a process the president and White House was heavily engaged in," Eric Schultz, an administration spokesman, told reporters aboard Air Force One.
Oil Sales
The deal is paid for, in part, by the U.S. selling 58 million barrels from the Strategic Petroleum Reserve. It also changes the way partnerships such as hedge funds and private equity firms are audited in order to increase tax compliance, raising $11 billion, according to the CBO.
The proposal uses war funds, which aren't subject to budget caps, to increase defense spending, something Obama has previously opposed. It would raise the Defense Department's overseas contingency operations and the State Department's war funds by more than $7 billion apiece each year over the Obama budget request. The White House had projected a larger decrease in war funds due to the ending of the conflict in Afghanistan in 2017 but the budget deal maintains spending higher levels through 2017.
Negotiators were able to deal with a pending shortfall in the Social Security Disability Insurance program months ahead of the program running out of funds, which was forecast by the agency's trustees to occur weeks before the November 2016 presidential election.
Social Security
Democrats had sought a simple transfer of payroll tax revenue from the Social Security retirement fund to the disability account to cure the shortfall. Republicans got changes to the program but agreed to allow the adjustment, temporarily increasing the contribution from 1.8 percent to 2.37 percent of wages.
The deal would prevent a major increase in Medicare premiums next year for some recipients by applying a surcharge in later years. It would also increase rebates drug manufacturers must pay to federal and state governments to cover the costs of Medicaid and change the way Medicare pays for provider services at hospital-owned doctors' offices.
The Medicare Part B premiums for some recipients would be partially increased but they won't have to pay all of the the projected 52 percent spike in premiums from $104.90 a month to $159.30. Under the deal, these high and low-income recipients -- about 30 percent of all Medicare beneficiaries -- will get charged an extra $16 a month.
These Medicare beneficiaries would also pay a $3 monthly surcharge until a general-revenue loan to the Medicare fund to cover the limit on premium increases is repaid. Higher-income recipients would pay even larger amounts, which will be graduated upward depending on their income bracket.
— With assistance by Toluse Olorunnipa, Justin Sink, Sahil Kapur, James Rowley, and Kathleen Miller
(Updates with Freedom Caucus opposition in fifth paragraph.)
Before it's here, it's on the Bloomberg Terminal.
LEARN MORE