markets
Owning Half of Japan's ETF Market Might Not Be Enough for Kuroda
By and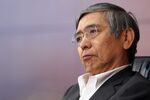 Japan's central bank already owns more than half of the nation's market for exchange-traded stock funds, and that might just be the start.
The Bank of Japan will boost stimulus on Friday, according to 16 of 36 economists in Bloomberg's latest survey, with 12 saying it would do so by increasing its annual ETF-buying budget. With 3 trillion yen ($25 billion) a year in existing firepower, the BOJ has accumulated an ETF stash that accounted for 52 percent of the entire market at the end of September, figures from Tokyo's stock exchange show.

Policy makers weighing a deeper foray into equities shows how the world's third-biggest stock market has become one of the most important Abenomics battlegrounds. The Topix index is up 21 percent since the central bank unexpectedly tripled its ETF budget almost a year ago, and Citigroup Global Markets Japan Inc.'s Tsutomu Fujita says there's room for them to triple it again. For Amundi Japan Ltd., expanding the program would do more harm than good.
"At a fundamental level, I don't support the idea of central banks buying ETFs or equities," said Masaru Hamasaki, head of the investment information department at Amundi Japan. "Unlike bonds, equities never redeem. That means they will have to be sold at some point, which creates market risk."
Risk-Taking Activity
Japan's central bank began buying ETFs in 2010 to spur more trading and promote "more risk-taking activity in the overall economy." Governor Haruhiko Kuroda expanded the program in April 2013 and again last October. The BOJ tends to enter the market on days where stocks decline in the morning, and has spent more than 80 percent of its allowance for this year.
"The BOJ's ETF buying has an impact on investor psychology," said Hideo Kumano, chief economist at Dai-ichi Life Research Institute Inc. and a former central-bank official, who expects policy makers to announce an increase in purchases of ETFs, sovereign debt and real-estate investment trusts on Friday. "People are saying they have to ease somehow, and it's up to Kuroda to work out what will have the most impact."
While Kuroda says the size of Japan's bond market isn't a constraint, his current debt-program is capable of swallowing every new security the government issues. That's left some saying he has little choice but to contemplate purchasing more equities.
More Stocks
"Buying bonds is no longer possible, but they still have plenty of scope to increase ETFs purchases to, say, 10 trillion yen from the current 3 trillion yen," said Fujita, the vice chairman of Citigroup Global Markets Japan, who expects the central bank to ease by January. Similar to 2002, "they could also buy the underlying stocks too."
To replenish capital at financial companies, the BOJ bought billions of dollars of cross-held shares from banks more than a decade ago. HSBC Holdings Plc's Izumi Devalier says that was a special case as the central bank's goal then was to lower credit risk rather than pursue inflation.
Still, she says some in the market are already musing that direct purchases of stocks could be a way to achieve the BOJ's ultimate goal faster. While Devalier's not convinced the bank will adopt such a policy, accumulating shares with voting rights would help directly influence company decisions on raising wages or boosting investment, aiding Kuroda's fight against deflation.
"If the macro didn't work, maybe you do it on a super micro level," said Devalier, HSBC's Hong Kong-based economist.
Missing Inflation
About 2 1/2 years after Kuroda's first "bazooka," inflation is nowhere near the 2 percent target that he's seeking to achieve by around September 2016.
The BOJ is just one part of a boom for the ETF industry in Japan. Earlier this month, Nomura Asset Management Co. stopped taking new cash for its leveraged Nikkei 225 Stock Average ETF because it said the fund was getting too big. A week later, BlackRock Inc. listed four new funds on the Tokyo Stock Exchange, partly to meet demand from regional banks.
For Mitsubishi UFJ Morgan Stanley Securities Co.'s Yuji Shimanaka, who expects the BOJ's ETF budget to swell to 4.5 trillion yen a year on Friday, expanding further in to equities as well as municipal and other government bonds will help keep the Abenomics dream alive.
"Some might question whether this is enough, but it's better than doing nothing."
— With assistance by Yuko Takeo, Anna Kitanaka, Masahiro Hidaka, and James Mayger
(Adds chart showing BOJ's holdings on first screen.)
Before it's here, it's on the Bloomberg Terminal.
LEARN MORE