Onshore China Bond ETFs Benefit from Herd Mentality
Onshore bond funds are now outpacing stocks as the IMF weighs a big decision.
by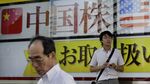 It's the Year of the Sheep in more ways than one.  
A group of exotic but sheepish China bond exchange-traded funds are now outperforming their hyperactive equity cousins as gun-shy local investors rotate out of stocks and into debt in search of calmer, more profitable waters.
For example, the Market Vectors ChinaAMC China Bond ETF, known as CBON, which tracks mainland China investment-grade government and corporate bonds, is easily outperforming the Deutsche X-trackers Harvest CSI 300 China A-Shares ETF, or ASHR, which tracks mainland stocks.
CBON is outpacing ASHR by 5 percent while displaying one-10th of the volatility, as seen in the chart below. 

The story doesn't end there. These ETFs may get a further boost in early November, when the International Monetary Fund is expected to announce that the yuan will join the fund's basket of reserve currencies. According to reports, the IMF is giving strong signals that the yuan will be included, to the point where Chinese officials are said to have prepared celebratory statements.
If so, this could be a nice tailwind for ETFs holding mainland Chinese bonds. It would mean that central banks around the would have to purchase up to up to $1 trillion worth of Chinese assets over the next several years, including potentially onshore bonds given that China's offshore debt market is just $60bn. 
Meanwhile, China's onshore China debt is the world's third largest, at $6.5 trillion and making up 35 percent of total emerging market debt. While the onshore equity market has around 3 percent foreign ownership, the onshore bond market has even less with only 2 percent of it owned by foreign investors, according to Brendan Ahern, managing director of KraneShares.
China's onshore bond market has historically been very difficult for even the most connected institutions to invest in, at least until recently. Three ETFs launched in the past 12 months serve up onshore China debt exposure via relationships with local institutions that have a quota for bond purchases.
In addition to the aforementioned CBON, there is the Global X GF Bond ETF (CHNB), which holds investment grade bonds issued by China's government and agencies, plus state-owned enterprises. Finally, the KraneShares E Fund China Commercial Paper ETF (KCNY) holds mainland commercial paper like a money market fund does, albeit one that yields 1.4 percent. 
Considering the exotic quality of this exposure, all these ETFs come relatively cheap, with expense ratios from .40 percent to .56 percent, per the table below. That's about half the cost of China A share ETFs.

Notwithstanding the low cost and volatility when compared to stocks, these ETFs can't escape one big risk that comes with all China ETFs: China's government. In early August, CBON alone dropped 5 percent in two days when the government decided to suddenly and unexpectedly devalue the yuan.
Unpredictable moves by China's authorities are but one reminder that sometimes even innocent sheep get slaughtered.
Eric Balchunas is an exchange-traded-fund analyst at Bloomberg. This piece was edited by Bloomberg News.
Before it's here, it's on the Bloomberg Terminal.
LEARN MORE