Oil Below $50 Signals Saudi Stocks Can't Defy History for Long
by and
Tadawul's valuation premium over emerging markets at risk

Stocks battered after government said its mulling subsidy cuts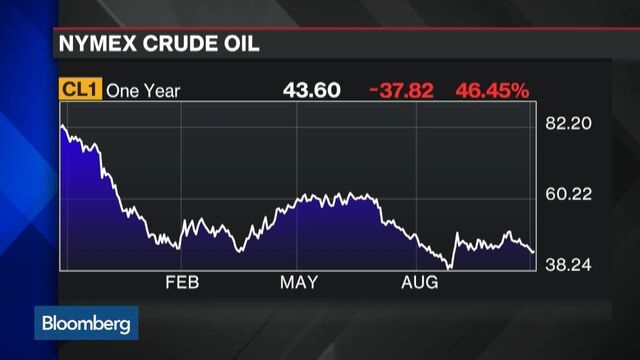 As bad as the oil bust has been for Saudi Arabia, stocks in the kingdom are still priced at a premium to emerging-market peers.
History suggests that won't last.
While valuations on the Tadawul All Share Index have dropped as the gauge has tumbled 30 percent over the past year, its forward price-to-earnings ratio is still more expensive than the MSCI Emerging Markets Index. The last time oil languished at these levels, Saudi equities traded cheaper than developing-nation stocks for the longest period on record.

"We could see more reductions in valuations," said Abu Dhabi-based Sachin Mohindra, a money manager at Invest AD Asset Management, whose Gulf-focused fund is underweight on Saudi stocks. "Institutional investors would require lower price-to-earnings ratios to compensate for the uncertainty on the macro front."
The decline in oil prices comes as Saudi Arabia opens its stock market, the largest in the Arab world, to foreigners for the first time. In June it relaxed rules to allow qualified investors direct access to stocks as part of wider government efforts to reduce the economy's dependence on oil. Even as the government curbs spending and delays payments to contractors, the International Monetary Fund said last week the country may run out of cash in five years if it maintains current policies.
Subsidy Cut
The Tadawul traded at a discount to its emerging-market peers for most of a nine-month period starting December 2008, after Brent fell below $60 per barrel. The gauge traded Wednesday at 12 times earnings for the next 12 months, compared with 11.3 times for the MSCI Emerging Markets Index. Saudi shares are pricing at an average of 1.7 times book value, compared with 1.4 times for developing-nation stocks.
The contrast in valuations is becoming increasingly relevant as Tadawul pushes for inclusion in MSCI's emerging markets index by 2017. The bourse is "interacting very closely" with MSCI for inclusion in its indexes, Tadawul Chief Executive Officer Adel Al-Ghamdi said in Singapore today.
The Tadawul's valuation based on earnings "isn't expensive because you have a stable currency, unlike other currencies in the emerging markets," said Tariq Qaqish, the head of asset management at Dubai-based Al Mal Capital PSC. "They can maneuver and continue spending because they have low debt."
The Tadawul closed 0.3 percent higher on Wednesday, rebounding from a 3 percent retreat Tuesday that was the most in two months, after the government said it's considering reducing energy subsidies to cope with the drop in oil and investors speculated the move could hurt corporate profits.
Saudi Arabia has $655 billion to stave off a devaluation of the riyal, even after spending 11 percent of its foreign reserves in the year to August. Central Bank Governor Fahad Al-Mubarak said the nation will maintain the currency's peg to the dollar as long as the economy is dependent on oil.
Oil Outlook
Oil-price forecasts have become more bearish, with Brent expected to average $61.5 a barrel in 2016, according to the median of 28 analyst estimates compiled by Bloomberg. That's 28 percent lower than projections at the end of last year. The break-even oil price for Saudi Arabia's budget last year was $106 a barrel, according to the IMF.
Brent rose 0.6 percent to $47.08 a barrel on Wednesday, paring its loss in the past 12 months to 45 percent.
Before it's here, it's on the Bloomberg Terminal.
LEARN MORE