business
Oil Explorers Prepare for Another Year of Depressed Prices
By
Shell, ConocoPhillips, Eni post combined $8.7 billion loss

Writedowns wreak havoc on balance sheets across industry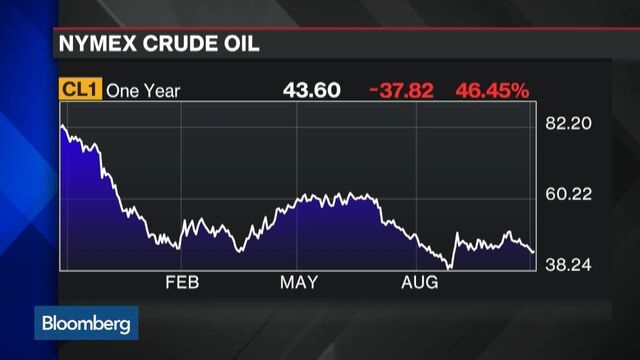 The biggest oil explorers to post earnings so far are bracing for another year of deep spending cuts as the slump in energy markets shows no signs of abating.
Royal Dutch Shell Plc, ConocoPhillips and Eni SpA reported $8.72 billion in combined third-quarter losses on Thursday as sliding crude and natural gas prices choked cash flow, halted drilling projects and exacted billions of dollars in writedowns as once-prized oil fields dwindled in value. France's Total SA was an outlier in reporting positive net income, albeit 69 percent less than a year ago.
The $7.42 billion loss recorded by Shell, Europe's biggest oil producer, was its most significant in at least 16 years. The company abandoned projects in Alaska and Canada and exacted $4.6 billion in charges while tumbling energy prices erased $3.7 billion from the value of its oil fields. ConocoPhillips canceled $800 million in capital spending after posting a $1.07 billion loss that was its worst since 2008.
Thursday's grim results followed on the heels of similarly dour reports on Wednesday from Occidental Petroleum Corp., Anadarko Petroleum Corp. and Hess Corp. For the $1.9 trillion-a-year oil industry, the hemorrhaging may not yet be over. Exxon Mobil Corp., the world's biggest oil producer by market value, and Chevron Corp. are scheduled to disclose third-quarter results on Friday.
Expensive Projects
Oil executives are halting expensive projects that won't bring returns for years and shunning peripheral opportunities seen as too much of a gamble after crude's fall to $45 a barrel. "We don't think it makes sense to accelerate production in this environment," Hess Chief Executive Officer John Hess said during a conference call with investors and analysts on Wednesday.
Shell, which is buying BG Group Plc in the energy industry's largest deal this year, reported a third-quarter net loss of $7.42 billion, compared with a profit of $4.46 billion a year earlier. Adjusted for one-time items and inventory changes, profit dropped 70 percent to $1.77 billion, The Hague-based Shell said Thursday in a statement. That missed the $2.92 billion average estimate of 17 analysts surveyed by Bloomberg.
Painful Decision
Shell abandoned the construction of the 80,000 barrel-a-day Carmon Creek oil sands project in Alberta, Canada, after having already started building it, a sign of the painful decisions the company is taking. It also walked away from drilling in Alaska in September after $7 billion of spending ended with a well that failed to find hydrocarbons.
ConocoPhillips Chairman and Chief Executive Officer Ryan Lance has said the Houston-based explorer will continue to support its dividend, which has a yield of about 5.6 percent and is among the highest for companies that pump oil and gas. Some analysts have questioned whether the company can continue to make those investor payments while funding new drilling and limiting spending to what it receives in cash from operations.
"That will be a challenge for them," Brian Youngberg, an analyst at Edward Jones & Co. in St. Louis, said in an interview before the earnings release. "Operationally, they're doing well with what they can control, but they can't control prices."
Marathon Oil Corp. wasn't as resolute. The Houston-based oil producer slashed its dividend by 76 percent on Thursday to 5 cents a share, a move that'll save more than $425 million a year. Marathon shares jumped 4.2 percent. The company is scheduled to disclose third-quarter results next week.
ConocoPhillips is among producers that have turned to asset sales to help shore up their finances, pay dividends and continue drilling.
Italian Refineries
Eni's total adjusted net loss was 257 million euros ($281 million) compared with net income of 1.17 billion euros a year earlier, the Rome-based company said Thursday in a statement. The adjusted operating loss at the gas and power division expanded to 469 million euros from 180 million euros.
Disappointing results in Eni's gas and power business added pressure on a company already suffering from tumbling oil prices. The company, which operates five refineries, said its fuel-production margin more than doubled to $10.04 a barrel in the quarter from $4.39 a year earlier. Eni expects its refining division to break even this year, 12 months ahead of schedule, after benefiting from lower crude costs. Adjusted operating profit for the unit rose to 335 million euros from 12 million euros.
Total's Profit

Total's adjusted net income fell to $2.76 billion in the third quarter, a decline of 23 percent from $3.56 billion a year ago, the company said in a statement Thursday. That beat the average $2.46 billion estimate of 11 analysts surveyed by Bloomberg. Net income dropped 69 percent to $1.08 billion as the company wrote down the value of inventories and took a charge on an asset it's selling.
The company said it remains on track to exceed its savings target of $1.2 billion this year and reiterated its goal to reduce 2015 capital expenditure to $23 billion to $24 billion.
— With assistance by Javier Blas, Francois De Beaupuy, Rakteem Katakey, Angelina Rascouet, and Bradley Olson
Before it's here, it's on the Bloomberg Terminal.
LEARN MORE