Norway Oil Fund Rejects Divestment Option Even as Cash Runs Out
by
Says will use cash flow from investments to adjust portfolio

Says will reinvest European dividends into `rest of world'
For Norway's $860 billion wealth fund, selling assets represents a cost it would rather avoid.
The world's biggest sovereign wealth fund says it won't resort to divestments even as the government prepares to make withdrawals for the first time next year. That development and the fund's dwindling returns had fueled speculation it will need to sell assets in Europe if it's to follow a strategy of increasing its emerging market holdings.
But for now, the fund's cash flow of about 200 billion kroner ($24 billion) from its investments provides a buffer as the environment in which it operates is turned on its head.
"The starting point is to use the cash flow that comes into the fund to re-adjust the portfolio," Yngve Slyngstad, the chief executive officer of the fund, said in an interview in Oslo. "That means we don't see any need to reinvest the dividends from European companies into the European market, we would rather buy in equity markets in the rest of the world."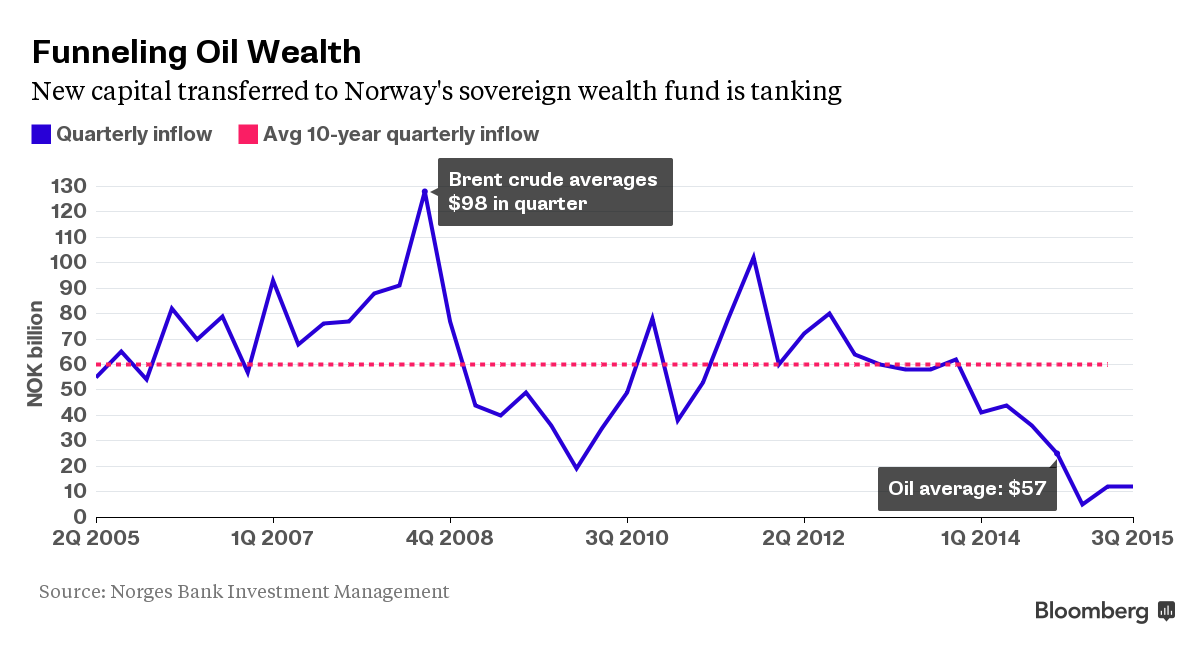 The fund, built from Norway's oil wealth, is lobbying to invest in infrastructure, raise its share in real estate and add more stocks to boost returns. With a loss in the third quarter, the annual real return has been 3.55 percent since 1998, behind a government target of 4 percent.
"There's no problem for us to adjust to new asset classes," Slyngstad said. "We're very long term, we move very gradually and we try to minimize transaction costs any way we can."
Slyngstad has said that given record-low interest rates across the developed world, it will be difficult to meet return targets in the years ahead. The fund has turned more to emerging markets in response. Though that strategy proved costly in the third quarter, the fund won't deviate from its goal of shifting out of Europe, he said.
But his top deputy said on Wednesday that the fund is formulating a new plan to deal with the lack of capital flowing in.
The approach to channeling new investments into emerging markets from Europe "needs to be revised based on lower inflows," said Trond Grande, deputy CEO of the fund, declining to comment further.
European stocks represent 40.1 percent of the fund's equities, making it the region's largest investor. The investor is mandated to hold about 60 percent in stocks, 35 percent in debt and 5 percent in properties.
The fund in the third quarter had its biggest loss in four years as Chinese equities and Volkswagen AG dragged down stocks. Overall it lost 4.9 percent as its stock portfolio slid 8.6 percent, including a 21.3 percent plunge in Chinese equities.
The Norwegian government will make its recommendations on letting the fund invest in private equity in 2017. The government has so far hesitated to allow it to expand into unlisted investments such as infrastructure. The fund's latest plans include about 50 billion kroner each year in property.
"If we are allowed to invest in infrastructure, it will probably be at an even smaller pace," said Slyngstad.
Before it's here, it's on the Bloomberg Terminal.
LEARN MORE