No Sign of Winter Respite Amid Slow Start to Refugee Relocations
by and
EU has relocated just 86 people so far out of pledged 160,000

700,000 migrants in 2015 testing EU commitment to free travel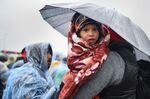 The European Union said it has resettled just 86 refugees out of its pledge of 160,000, as the number of migrants forging through Europe from war-torn Syria shows no sign of letting up despite the approach of winter.
QuickTake Europe's Refugee Crisis
The relocation plan, agreed last month by EU governments, was meant to share the burden of migrants mainly arriving in Greece and Italy among the bloc's 28 countries. A record 180,000 people have crossed into the EU this month alone as of Oct. 26, compared to 173,000 in September, according to the UNHCR.
The 86 refugees who have been relocated so far had all been staying in Italy, European Commission spokeswoman Natasha Bertaud told reporters in Brussels on Thursday. The EU needs "all member states to tell us how many places they have available right now out of their share of 160,000," before relocation can take place in larger numbers, she said. A group of 30 is due to be transferred from Greece soon, she said.
With more than 700,000 refugees arriving by sea so far this year and tens of thousands more on their way, EU governments are grappling with an influx on a scale not seen since the 1940s. Some have responded by closing borders and building fences, others by shuttling migrants across frontiers for other countries to deal with.
The 160,000 redistribution plan laid bare the disunity within the EU over the crisis, with bigger countries forcing the plan through in September over the opposition of Hungary, the Czech Republic, Slovakia and Romania. All of the bloc's 28 nations are participating in the program, according to the Brussels-based commission, apart from the U.K., which is not bound by EU rules on migration.
More refugees have crossed the Mediterranean Sea to reach the EU so far this month than in all of September, UNHCR spokesman William Spindler said in an interview. In 2014, when the flows were just a fraction of this year's, the number of arrivals dropped by a third in October as the weather turned worse.

"It hasn't yet peaked," Spindler said. "In previous years, September was the highest month and then in October, November, December you saw a reduction. But this year it's different -- we've seen a constant increase since May."
Austria became the latest country to announce plans to build a border fence on Wednesday, the first to go up within the supposedly borderless Schengen area, signaling the EU's commitment to the principle of free movement is wavering.
Austria had previously criticized neighboring Hungary's decision to erect a barrier, and the move to put up its own fences shows the increasing desperation of officials trying to regain control of the number of people flooding across its borders.
"It doesn't work," Spindler said. "People will always find ways to go around those fences and it just makes it more dangerous for them. People have to go on longer, more dangerous journeys and that encourages smugglers."

While the actual shape and length of the barrier on its border with Slovenia still needs to be worked out, there won't be any razor wire on it, as there is in Hungary, Austrian Chancellor Werner Faymann said Wednesday. There won't be a fence around the entire country, either, he said.
"We want to be able to enact control, and for that, we need technical security," Faymann told reporters in Vienna after a government meeting. Separately, Slovenia may start to build "technical barriers" on the Croatian border if the migrant crisis doesn't abate, Prime Minister Miro Cerar told reporters in Ljubljana.
'Wrong Path'
The Austrian chancellor softened his stance hours later after a phone call with EU Commission President Jean-Claude Juncker. On ORF television's evening news, Faymann said that "whoever thinks fences will solve the refugee question is on the wrong path." Germany's slowing intake of refugees had, however, created a backlog in Austria that needed to be dealt with, he said.
Bottlenecks are created in areas where countries have partially closed borders or tried to reduce the flow of refugees, and many desperate migrants are stuck for hours close to the frontiers between different EU nations, Spindler said.
"People are reluctant to move away from the border even if the conditions are very, very bad," he said. "When we say 'we can take you to a reception center where we can give you food and a bed for the night,' they say 'no, we don't want to miss our chance, the border might open any minute.'"
Before it's here, it's on the Bloomberg Terminal.
LEARN MORE