Merkel Woos Xi With German Industrial Might as EU Courts China
By and
Chancellor to Beijing just days before France's Hollande

Chiefs of VW, Siemens, Deutsche Boerse along for the trip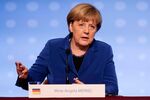 Chancellor Angela Merkel is touting German industrial strengths on a trip to China as European countries jostle to court President Xi Jinping for his country's business.
Merkel, whose country is China's biggest European trade partner, is due in Beijing on Thursday after Xi's red-carpet visit to the U.K. last week celebrated expanding financial and economic ties between those countries. French President Francois Hollande plans to visit China next week in another sign of Europe's engagement, just as U.S.-Chinese tension increases. Chinese Premier Li Keqiang and Merkel are scheduled to preside over the signing of business deals and hold a news conference at 11:30 a.m. Beijing time.
Chief executive officers along for the trip include Volkswagen AG's Matthias Mueller, Joe Kaeser of Siemens AG and Deutsche Boerse AG's Carsten Kengeter. With China's economy growing at the slowest rate since 2009, Germany's business community is concerned about the risks in their fourth-biggest export market.
"It's about confidence-building," Anton Boerner, head of the BGA export-industry association, said in an interview. "The most important thing would be for Merkel to press them on how big the problems in China really are and to find out if the Chinese will get a grip on them."
Merkel's eighth visit to China in her decade as chancellor offers a chance to tell the country's leaders that Volkswagen's diesel-emission scandal doesn't reflect on German manufacturers as a whole. Merkel's position is that her administration is committed to ensuring that German companies play by the rules, according to a German government official who briefed reporters before the trip.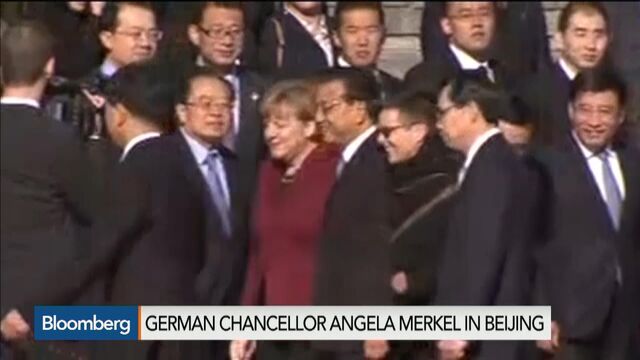 U.K. Challenge
The chancellor may also seek Chinese help in stemming this year's record influx of refugees to Germany, a domestic crisis that's eroding her public support. China may be able to exert influence on Russia, which is backing President Bashar al-Assad in Syria's civil war, according to another German official. Many of the refugees heading to Europe are fleeing the Syrian conflict.
Merkel's two-day trip lacks the pomp and circumstance of Xi's visit to the U.K., which featured a speech to both houses of Parliament and lunch with Queen Elizabeth II, underscoring the revival of links after a near two-year diplomatic freeze. The U.K. was the first major Western country to get behind China's Asian Infrastructure Investment Bank, paving the way for other EU countries including Germany and causing friction with the U.S.
The U.K. "is stealing a march on Germany with its hyperactive China policy," Sebastian Heilmann, head of the privately funded Mercator Institute for China Studies in Berlin, said in a research note. "Merkel will have a much more difficult time than on previous visits."