Japan's Student Protesters Call for United Front Against Abe
by
Student group led huge summer rallies against security bills

Abe's ruling party way ahead of opposition groups in polls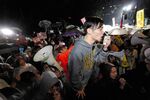 Leaders of a student group that led huge rallies this summer against Prime Minister Shinzo Abe's drive to expand the role of Japan's military called for opposition parties to form a united front against the premier in elections next year.
"The results of the upper house elections will be harsh if opposition parties don't co-operate," Nobukazu Honma, a core member of SEALDs, or Students Emergency Action for Liberal Democracy, told reporters in Tokyo on Wednesday. "We want to send a clear message to society so we can make inroads next year."
The students' call echoes that of the Japanese Communist Party, which is in talks with the main opposition Democratic Party of Japan to form a "national coalition government" to repeal the security legislation pushed through parliament this summer. As things stand, opposition parties are struggling to make inroads against the ruling Liberal Democratic Party of Japan.
The LDP was supported by 35 percent of respondents in a Nikkei newspaper poll published Monday, far ahead of the DPJ with 8 percent and the Communists with 5 percent. However, 42 percent expressed no preference, showing a potential opportunity for a united opposition to pick up votes.
Uphill Struggle
Students will face an uphill struggle as the center of gravity in Japanese politics and society has shifted to the right, according to Robert Dujarric, director of the Institute of Contemporary Asian Studies at Temple University's Japan campus.
"To succeed politically they'll need an effective political party to back them," Dujarric said. "This, however, isn't yet on the horizon."
Abe's own support rate, while dented, is holding up despite a summer when tens of thousands of people demonstrated outside parliament and around the country against the controversial defense laws. The protests were among the biggest since massive rallies against the ratification of a security treaty with the U.S. in 1960.
The students said they were seeking to improve democracy in Japan. Honma, one of four leaders of the group speaking Wednesday, said they don't plan to support any particular party next year, and would back candidates up against lawmakers who voted in favor of the security legislation.
The bills would allow the military to defend other countries and provide logistical support for their troops. They were passed to enshrine into law the Cabinet's reinterpretation last year of Japan's pacifist constitution that was drafted by U.S. occupying forces in the aftermath of World War II.
Before it's here, it's on the Bloomberg Terminal.
LEARN MORE