Investors Dislike Energy Stocks Nearly as Much as They Disliked Financial Stocks in 2008
by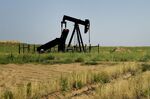 Investor sentiment toward energy stocks is crumbling as oil prices remain at depressed levels.
Bespoke Investment Group observes that short interest as a percent of shares available for trading, known as the "float," has spiked for the average company in the energy sector, to 11.6 percent as of mid-October:

"That's over 80 percent more than the level for the broader market, and it's the highest level we have seen in at least a decade," wrote Bespoke.
In mid-2008, short interest as a share of float for the average financial stock peaked at 11.7 percent, a tick higher than the current level for energy equities, according to the report.
But Bespoke noted that short interest in financials was capped through a prohibition by the U.S. securities watchdog on short-selling in response to an outcry from Wall Street executives, chief among them Dick Fuld of Lehman Brothers.
"We wouldn't bet on any such directive coming this time around for the energy sector," the money management and research firm cautioned.
Meanwhile, the front-month futures contract for West Texas Intermediate crude oil popped on Wednesday morning to break above $45 per barrel.
"Market expectations have now adjusted to the idea of a lengthy period of range-bound oil prices before a shallow longer-term recovery," Kit Juckes, global strategist at Société Générale, said on Tuesday, before the price increase. "New lows and the threat of a new downtrend is not priced in, and we are within $5 per barrel U.S. from the lows."
Before it's here, it's on the Bloomberg Terminal.
LEARN MORE