HSBC Nemesis Falciani Mocks Swiss Justice a Mile From Border
by and
Falciani has vowed to skip criminal trial set for Nov. 2

Charged with industrial espionage, breaking bank secrecy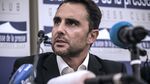 Herve Falciani, the Frenchman wanted on charges of industrial espionage in Switzerland, has opted to skip his trial at the country's top court and instead plead his case before a jury of journalists at a French hotel, less than a mile from the Swiss border.
The Frenchman was the star attraction at a conference billed "Investigative Journalism in the Time of Wikileaks" Wednesday at the Domaine de Divonne. The hotel and casino is a 20-minute drive from Geneva, where Falciani took client data from HSBC Holdings Plc's private bank nearly a decade ago.
"My action continues to be fruitful and useful," Falciani told reporters in Divonne at the event organized by the Geneva Press Club. "I'm working with administrations and investigators."
Falciani, who embarked on a campaign to crack down on improper or illicit use of offshore banks after leaving HSBC, said he's still collaborating with France and other groups in Spain, Brazil, Argentina and Italy. He is able to skip the Swiss criminal trial because France doesn't extradite its citizens.
Whistle-Blower
To his supporters, Falciani is a whistle-blower whose data sharing spawned unresolved investigations by U.S., French and Belgian authorities into what HSBC did to help its clients evade taxes. British parliamentarians grilled the London-based bank's Chief Executive Officer Stuart Gulliver earlier this year, basing questions on media reports from the Falciani data dubbed Swissleaks.
To HSBC and Switzerland's Attorney-General Michael Lauber, Falciani is a thief who tried to sell parts of the client database he copied to a third party in Lebanon, and who only leaked it to the French government when he realized he couldn't make money from the material.
"He wants to pour a bit of oil on the fire," Stephane Garelli, professor of world competitiveness at Lausanne's IMD business school, said in a telephone interview before the Divonne event. "There is a distinction between stealing data to sell abroad and whistle-blowing."
Laurent Moreillon, a lawyer for HSBC Private Bank Suisse, said that Falciani's trial will take place Nov. 2 at the Federal Penal Court in Switzerland, not "at a casino in France, close to the Swiss border."
'Earthquake'
Falciani is promoting his French-language book "Seisme sur la Planete Finance," which translates as: "Earthquake on Planet Finance." He didn't give details of any assistance he is giving to governments cracking down on offshore tax havens or say precisely what would be the result of his work with academic institutions.
He reiterated concerns that some people think they're not obliged to respect the rule of law, including those involved with "tax optimization."
"This is fact," he said. "I'm not taking an ideological position."
A guilty verdict on the charges of violation of banking secrecy and industrial espionage he faces carries a sentence of up to five years. Falciani didn't appear for the original Oct. 12 trial opening and has pledged to not show up in November because, he said, he doesn't trust Swiss justice.
Business Espionage
Marc Henzelin, Falciani's lawyer, has said it's not right that his client is the only one facing trial and that HSBC got off too lightly. The Geneva public prosecutor dropped an aggravated money-laundering probe into HSBC in June, in return for a 40-million Swiss franc ($40.6 million) fine for "past organizational deficiencies."
The Falciani case is the first bank secrecy case to be tried at the court since 2011 when a former Credit Suisse Group AG employee was found guilty of business espionage for leaking customer information to an accomplice, and given a 24-month suspended sentence and fined 3,500 francs.
The case will test the reputation of Swiss justice, which has also been criticized for going after Falciani for data theft rather than HSBC or its clients for tax evasion or money laundering. After the extent of HSBC's activities was revealed in the Swissleaks disclosures in February, Lauber conceded that the delay in investigating HSBC's Geneva-based unit "must look shocking."
The Swiss judicial system has little choice but to apply the law and if it didn't, it could open a pandora's box of data theft, according to Garelli, who is chairman of the board of Swiss newspaper Le Temps and was previously a board member of a bank.
Before it's here, it's on the Bloomberg Terminal.
LEARN MORE