Style Guide
It's Officially Tights Season. Now How Do You Wear Them?
Black tights and beyond: Here are shopping picks and tips for how to style them (and stay warm).
By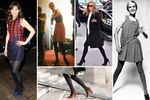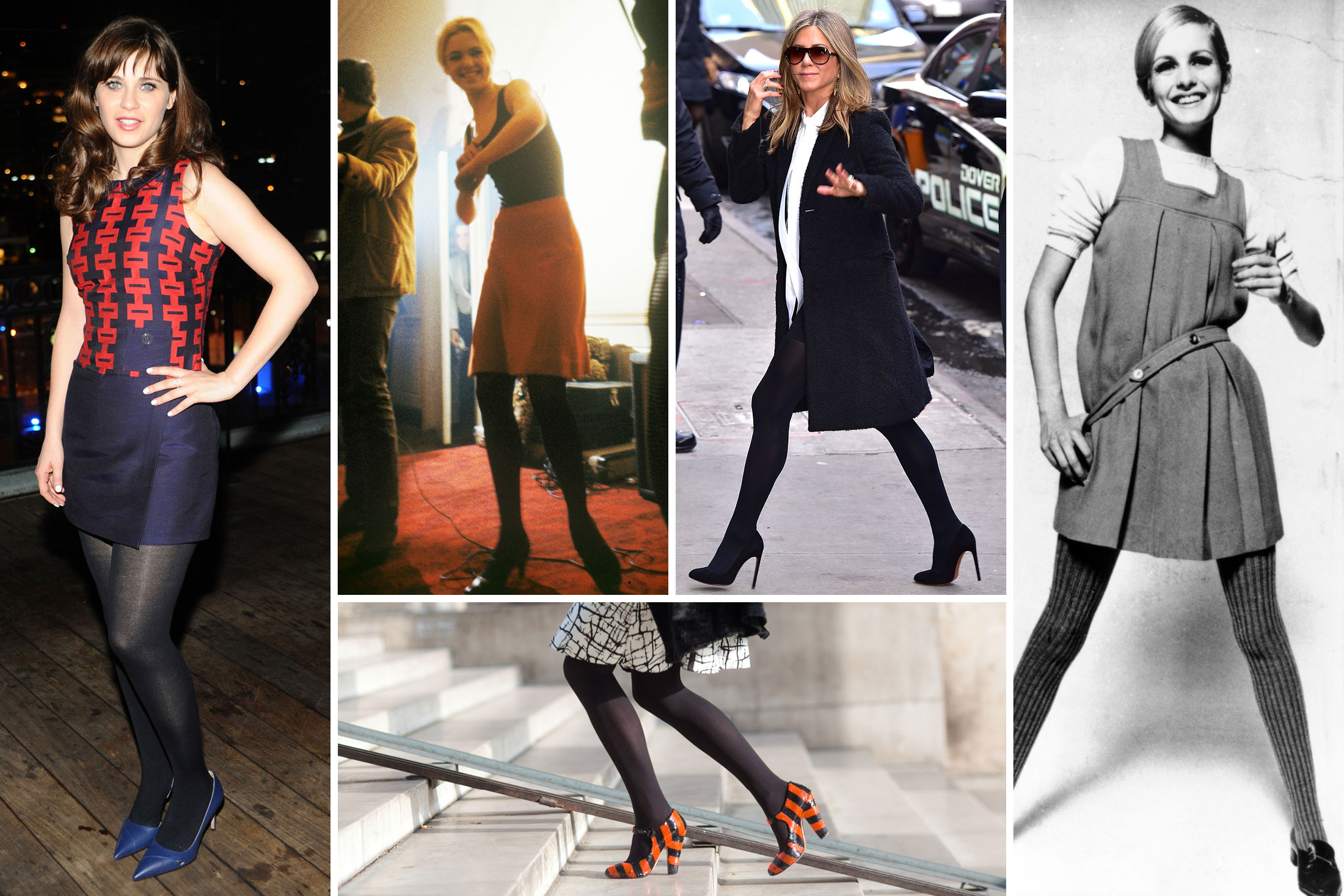 A little more than a week ago, there was some hoopla on the Internet about this opinion piece on the social politics of wearing black tights (yes, apparently that's a thing) in the Guardian. The author, the newspaper's veteran fashion editor Jess Cartner-Morley, suggested that a woman's choice to wear black tights "reveals a lot about your status, age, class and self-image." 
Her argument, in a nutshell, was that only the rich and/or beautiful women can and should dare to bare-leg it once the temperatures drop. The rest of us must use stretchy, ultra-concealing fabric as a safety blanket to hide our bottom halves. For God's sake, don't let anyone see that vitamin D-deprived pale skin or those imperfect kneecaps. 
Journalists, bloggers, and mere civilians fired back, particularly against Cartner-Morley's point that fashion is a matter of age, body-type, and position rather than taste. 
Here is my stance on the surprisingly controversial debate: I actually love tights. I've lived in them every fall and winter and sometimes spring since childhood. I'm from Florida, and I'm a chilly-weather wuss, I admit it. But frankly it never occurred to me that wearing black tights would make people think I was (gasp) not fancy. 
The simple leg coverings can actually be useful in ways other than keeping you warm. They can change the way an outfit looks on you, which means if you're young and don't have a ton of money for clothes, you can use them to multiply your wardrobe. I discovered this when I first moved to New York at 23 and owned only one pinstriped suit that was appropriate for my job as an editorial assistant. With tights, I could turn spaghetti-strap dresses and miniskirts into demure-enough workwear.  
I may be a professional fashionista now, but I still like the cute-meets-cozy look and feel of a pair of old-fashioned opaque hosiery. And I have some tips for you on how you should be using them yourself, starting with the basics.
Call us unfancy if you like, British fashion critics. I prefer the term "sensibly dressed." 
Replenish Your Stash of Black 
Black stockings are truly a glorious invention. Far from boring or basic, this simple accessory actually allows us ladies to skip shaving extend the shelf life of our favorite warm-weather wardrobe pieces, such as shorter skirts and floral-print dresses. Still, not all black tights are created equal—here are some of the best on the market, organized by fit, details, and material. 

1. Knit tights, such as this cable-knit pair by Fogal ($40, fogal-shop.com), are a great subtle shake-up to the predominantly solid, spandex-blend opaque ones. They will add texture and interest to your gams without adding unwanted bulk. 
2. If you prefer a less constricting fit, try something with a wider, invisible waistband, such as Commando's Ultimate Opaque Matte tights ($34, wearcommando.com)—the company is known for its dig-free technology (read: no muffin top). Remember, when choosing your size, it's OK to go up or down, but stay in your height range or you'll risk sagging in the knee and crotch areas. 
3. While a splurge, Wolford's Matte Opaque 80 tights ($55, neimanmarcus.com) are great if you like supersoft (and ultra-opaque) hosiery that really keeps its shape after multiple wears. 
4. For added warmth, stock up on hard-to-find, fleece-lined tights–such as this pair by Plush ($35, shopbop.com)—which are so thick they could actually double as leggings. They are an especially great alternative if Lycra makes your legs itchy. 
 5. DKNY is known for its long-lasting and affordable legwear, such as its Perfect Opaque tights ($20, macys.com), which have a slight sheen and a snug fit (despite lacking a control top) and are known to be pretty snag-resistant. (I still suggest keeping an extra pair in your office desk just in case.) 
Practice Clever Styling
Now take your carefully curated selection of black basics, add some unexpected picks, and apply these easy, smart styling tricks to amp up (and warm up) your stems from now until April. 

Wardrobe Blend: Don't retire your beloved sleeveless dress for the season just yet. Just pop on a wooly, cropped blazer (or perhaps a belted, chunky cardigan) and finish with your favorite trusty nylons and suede boots for a seasonally appropriate outfit. Or make dressy dresses more casual by adding some hose and substitute a great pair of ankle booties instead of your special-occasion six-inch stilettos. 
Go Vertical: Beyond classic-hued opaques, a subtle print on tights—like the vertical stripes on this pair by Wolford—can instantly elevate an outfit without the busyness of an elaborate pattern. Bonus: Tights that look like this also have a lengthening effect. 
Open Toe It: Reinvent a favorite pair of open-toe pumps or booties (like the pair above by Aquazzura) by styling them around your favorite hosiery. Just be conscious of doubling up on out-of-season elements. Avoid summery florals and linen-like fabrics if your toes are peeking out. 
Be Bold: Contrast your black hose (or other darks, such as hunter green and navy) with pops of bold, or flashy, colors. Bright pieces—such as red shoes or a safety orange knit—will appear even brighter when you provide stark contrast down below. 
Matchy-Matchy: Black tights worn with black shoes will create one flatteringly slim line. But so will navy with navy, and burgundy with burgundy, and so on—so experiment with some other monochromatic pairings. 
Nic Screws is the style director at Bloomberg. Follow her on Instagram and Twitter or e-mail her any of your fashion concerns or questions at nscrews@bloomberg.net. 
Before it's here, it's on the Bloomberg Terminal.
LEARN MORE