Here's What Companies Are Saying About Wage Growth in Their Earnings Calls
Some signs of labor market tightness.
by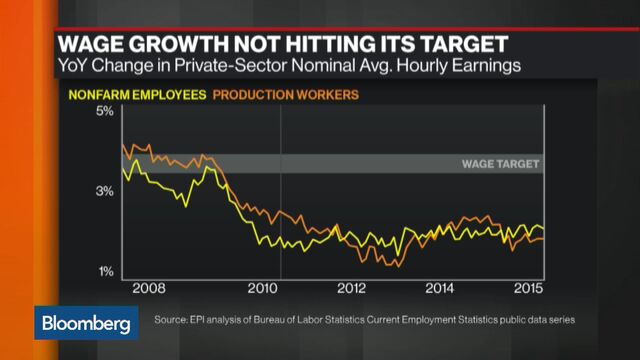 Earnings season is in full swing in the U.S., and the labor market continues to be a big topic as the Federal Reserve debates whether to raise interest rates for the first time in nearly a decade. Although wage growth has remained elusive despite a hiring boom, there are some anecdotal signs it's picking up, as a number of companies in the Standard & Poor's 500-stock index have mentioned rising labor costs on their earnings calls over the past quarter.
Here's a sampling.
McDonald's, which announced a pay increase for company-owned locations earlier this year:
The incremental labor cost in the U.S. related primarily to our decision to invest in our people by raising wages and providing paid time off for employees at our company-operated restaurants, as well as providing educational assistance to all eligible U.S. restaurant employees effective July 1. These costs, along with wage increases mandated by several states during the first half of the year, impacted third-quarter U.S. margins by about 400 basis points.
Chipotle:
Labor deleveraged vs. last year by 100 basis points as a result of wage inflation, with our hourly wages up nearly 5 percent over last year, along with the cost of adding enhanced benefits such as tuition reimbursement, paid sick leave, and increased paid vacation for our hourly restaurant employees as we discussed during our second-quarter earnings call.
Darden Restaurants: 
Wage pressure continues to be a problem. We'll continue to monitor it as we monitor the different states and the different cities and what they're doing with minimum wage. The job market does improve—is improving. We are seeing, in certain markets today, it becoming a little bit more difficult to hire help, so that will eventually put some pressure on our average wage. 
Kroger:
The wage pressures, I would say, aren't really any different than what we spoke of in the first quarter. There continues to be some out there. We're cognizant of trying to deliver the right overall package to our associates from a solid wage, a good health-care package, and a retirement plan as well. And we're a little different than a lot of our competitors, where we're balancing all three of those for all of our associates.
Paychex:
Expenses increased 7 percent for the first quarter, primarily driven by higher compensation-related costs and growth in our PEO. The increase in compensation-related costs was driven by higher wages and performance-based comp costs.
PulteGroup:
We talked on prior calls about working to overcome construction bottlenecks that had developed, but these delays are taking longer than expected to correct. The reality is that resource constraints, particularly as it relates to labor, exist across a number of our markets, and are continuing to hinder our progress...

In general, labor is the primary culprit of our lower conversion. No, we're not happy about it, overall, it's clearly impacting our production. In general, we're having to pay more for labor, and we're beginning to work hard to try to source additional trades, either taking trades from some markets that have capacity to other markets, or look for additional trades in markets beyond the ones that we've been using.
Of course, some companies are trying to combat this by increasing productivity, automation, and the use of robots.
Pepsi:
With these foundation elements in place, we have made progress in multiple areas. First, increased automation. We have installed packaging automation across approximately a third of our snacks plants worldwide, enabling us to reduce packaging labor costs in these facilities by at least 50 percent.
Still, companies experiencing a tighter labor market and wage pressures may prove the exception rather than the rule. The Employment Cost Index, which measures the growth of wages and benefits for U.S. employees, remains stuck in the doldrums:

Before it's here, it's on the Bloomberg Terminal.
LEARN MORE