GM Said to Offer UAW Bigger Bonus, Profit Sharing Than FCA
by
Payment for ratification said to be as much as $8,000

Raises would be same as Fiat Chrysler contract, person says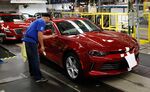 General Motors Co.'s tentative agreement with the United Auto Workers offers hourly employees a signing bonus of as much as $8,000 and better profit sharing than the contract approved last week by union members at Fiat Chrysler Automobiles NV, a person familiar with the details said.
The GM ratification payment compares with as much as $4,000 for Fiat Chrysler workers. Wage increases will be the same as what Fiat Chrysler agreed to, said the person, who asked not to be identified because the terms aren't yet public. The profit-sharing formula will remain the same as in the previous contract -- not the revised Fiat Chrysler formula -- which should provide bigger payouts for both veteran and second-tier workers, said the person.
The UAW has pushed for a better deal with GM because the automaker is larger and more profitable than FCA. GM last week reported a record $3.1 billion adjusted profit for the third quarter. With strong earnings, UAW leaders probably need better terms from GM and from Ford Motor Co. to win ratification votes. The GM accord was announced without details late Sunday, 16 minutes before a strike deadline. Local union leaders at GM are set to vote today whether to send the accord to rank-and-file members for approval.
"In the eyes of workers, they saved General Motors with concessions and now they want to be rewarded for it," said Gary Chaison, a professor of industrial relations at Clark University in Worcester, Massachusetts. "A bigger signing bonus is very attractive to workers and it's a good settlement."
GM spokeswoman Katie McBride and UAW spokesman Brian Rothenberg declined to comment.
GM would give veteran workers two 3 percent raises and two lump-sum payments during the proposed contract's four-year term, as Fiat Chrysler did, the person said. The so-called Tier 2 workers would eventually climb to the veteran rate of about $29 an hour from a previous maximum of about $19, according to the person. 
Lump Sums
The lump-sum payments would be equal to 4 percent of annual pay, the same as in the Fiat Chrysler contract. GM workers probably wanted more, McAlinden said.
It's not clear whether all workers at GM would get the $8,000 signing bonus. In the FCA contract, veteran workers get $4,000, while those in the lower tier get $3,000. In the 2011 contracts, UAW members at GM got $5,000 and those at Fiat Chrysler received $3,500.
On profit-sharing, GM workers would keep the same formula they have now, the person said. It pays $1,000 per $1 billion in North American profit.
Under its new contract, FCA will pay $800 per 1 percent of North American profit margin, starting next year. With an adjusted operating profit of 4.2 percent last year the deal would have paid about $3,000 compared with the $2,750 they got. If FCA's full-year margin rose to 6 percent, as it was in the second quarter, payouts would be closer to $5,000. FCA paid out a total of $9,000 to the average UAW member over the past four years, while GM paid $9,000 in 2015 alone, according to the Center for Automotive Research.
The contract UAW President Dennis Williams negotiated with Fiat Chrysler will add about $2 billion in costs over four years, including health-care inflation, people familiar with the matter have said. It's the first time in a decade that the UAW is winning agreements that add to automakers' costs.
The Fiat Chrysler contract was approved by a 3-1 margin last week, after UAW members there rejected an earlier agreement and sent their leaders back to the bargaining table. The revised deal secured larger signing bonuses for senior workers and bigger raises for those in the second tier.
Before it's here, it's on the Bloomberg Terminal.
LEARN MORE